Small-cap stocks typically outperform in January. Investors call this the January Effect.
The rationale for such an effect is simple.
Near the end of the year, investors dump many of their smaller stocks to spruce up their portfolio holdings and cut some losses for tax harvesting.
Then in January, investors reallocate their funds and pour them back into many of these small-cap stocks.
It's not as simple to articulate in real time, since some say the January Effect begins in mid-December, while others say it doesn't begin until January. But it works out better by going back to mid-December, which shows that in 14 of the last 25 years, small-cap stocks have outperformed.
This year is set to be the opposite case, with small-cap stocks underperforming so far.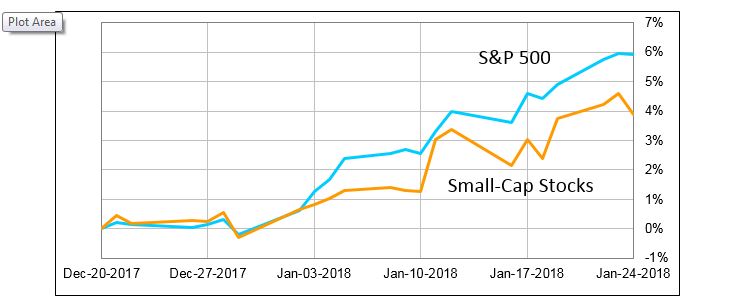 Why Didn't Small-Cap Stocks Outperform?
Now, many investors are wondering what caused the odds to work out this way. Well, it's simple — large-cap stocks are seeing a greater benefit from December's tax reform.
These larger stocks are rallying on the news, and even though small-caps still have posted a solid performance, they continue to lag behind their larger counterparts.
The good news, for both large- and small-caps, is that a variation of the January Effect, called the January Barometer, points toward even more gains to come throughout this year after January's strong returns.
Regards,
Chad Shoop, CMT
Editor, Automatic Profits Alert