The lights from the Las Vegas Strip are flashing outside my hotel window, and it's well after midnight, but my mind is abuzz with new ideas.
I just spent that past three days with the various Banyan Hill editors and more than five hundred of our subscribers. We discussed not only the outlook for the broad market but also some of the sectors that are poised to take off in 2019.
In all the sessions, there was one question that kept popping up: Are we at the end of the bull market? Is the next bear market on the horizon?
Investor caution is understandable.
The broad market indexes are trading near all-time highs. We have enjoyed a stellar run. The S&P 500 has gained nearly 10% already in 2018. The tech-laden Nasdaq Composite has soared more than 15%. And that's just the tip of the iceberg in terms of this long-term bullish run.
But many investors are wondering if we've gone too far and if we are overdue for a sharp pullback or worse … a correction.
At this year's Total Wealth Symposium in Las Vegas, Paul , Matt Badiali, Jeff Yastine and the rest of editors took to the stage to answer that question and more…
Beware the Bear Market
One of the most famous quotes I've heard — so many times over the nearly two decades that I've been in this industry — is that the market can remain irrational far longer than we can remain solvent.
Just because it has rallied far longer than most people have expected, doesn't mean there isn't still considerable life left in shares.
While at the Total Wealth Symposium, Ted Bauman, Chad Shoop and Michael Carr filmed a quick video about what makes a bear market and where we are headed. Don't miss out on this informative video, if you weren't able to attend the conference.
The Future of Robotics
While a bear market might lie on the horizon for the stock market, there are several hot sectors that stand to make some stellar gains.
One in particular that Paul spoke about is the robotics sectors.
During his main presentation at the Total Wealth Symposium, Paul brought out an amazing robot from the Knightscope group that is already working in several areas around the country.
Be sure to check out Paul's video on the future of robotics.
These are just some of the amazing investment ideas and strategies that the Banyan Hill editors discussed at the Total Wealth Symposium. You can see more of the videos from this conference by clicking here.
Regards,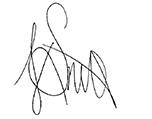 Jocelynn Smith
Sr. Managing Editor