In 2008, everyone loved potash. Even if they weren't quite sure what it was.
This type of salt, used to make potassium for fertilizer, soared to $900 per ton that year. Fortunes were made in the run up. But as they say in investing, the best cure for high prices is high prices.
Farmers passed on potash the following year as the recession dragged the economy down. Prices plummeted to around $300 per ton.
The price of potash fell further with the break up of BPC, a cartel that helped to prop up prices. Since then, potash struggled to find a bottom.
Take a look at the chart below of the rise and fall of potash prices.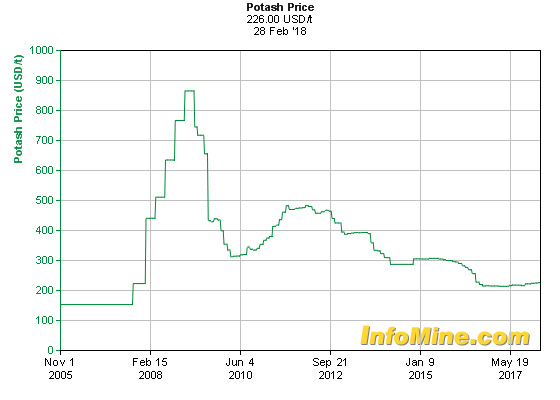 The five-year bear market in potash crushed producers. Now, there are few players left. But there is still one major player that is wielding its capacity to guide the market and create opportunities…
A Market All Its Own … Almost
Nutrien (Nasdaq: NTR) is a $34 billion potash and nitrogen producer. The Canadian producer supplies 25% of the world's demand for potash.
Few companies do well, while the commodity they produce sits near historic lows. Nutrien is a rare exception.
Embracing low prices, Nutrien is using it to its advantage.
Low potash prices are a deterrent for many producers. SQM (Nasdaq: SQM), a Chilean potash producer, is switching to lithium. The metal used in batteries is often found in the same places as potash.
Similar decisions by other producers could see a tightening supply and demand gap that could result in higher prices.
At the same time, Nutrien is holding back supplies to edge prices higher.
The biggest threat to Nutrien's dominance is BHP. The miner owns an idle potash project in Saskatchewan. Fully developed, it could become the world's largest potash mine.
There is another $5 billion and years of development holding it back from production. BHP is reluctant to commit the resources for completion until prices recover further.
Nutrien is playing a game of chicken with BHP over the price of potash.
Driving prices too high will see BHP move into the market and threaten Nutrien's dominance.
Nutrien is using its spare capacity to keep the price below what could tempt BHP to commit to the mine.
If successful, Nutrien can keep disheartened producers on the sideline while it grows earnings.
Over the next year, Nutrien looks well positioned to capture more of the market and grow earnings.
Regards,
Anthony Planas
Internal Analyst, Banyan Hill Publishing