Senior Managing Editor's Note: This week, we're sending you some of the best content we've published since the beginning of the year. We hope you enjoy this special series. We'll be back Monday, July 18, with brand-new research.
Electric vehicles (EVs) are becoming more popular.
Nearly every automaker is debuting at least one new EV model this year.
These models range from affordable sedans to luxury SUVs to super trucks.
By appealing to every type of car owner, EV growth should exceed most forecasts.
But this growth also comes with concerns over the supply of key battery materials.
The ones that dominate the headlines are nickel and cobalt.
These materials are part of the positive electrode of a battery.
But what's often overlooked are the materials that go into the negative electrode.
Graphite makes up 95% of the negative electrode. And it's in short supply.
Addressing the graphite shortage is key to keeping EV growth on track.
Graphite Demand Will Soon Exceed Supply 
There isn't a better alternative for graphite in batteries.
This makes us reliant on it for the foreseeable future.
Graphite can either be natural or synthetic.
But synthetic graphite is both costly and harmful to the environment.
That means the bulk of graphite needs to come from mining.
Currently China is the largest producer of this type of graphite, with 60% of the global supply.
Economic tensions and supply chain issues mean we shouldn't rely on China too much.
But even if we were able to get along with China and structure better supply chains, it wouldn't be enough.
We've already started to rely more on synthetic graphite to meet demand.
And by 2023, the demand for graphite will start to outpace its supply.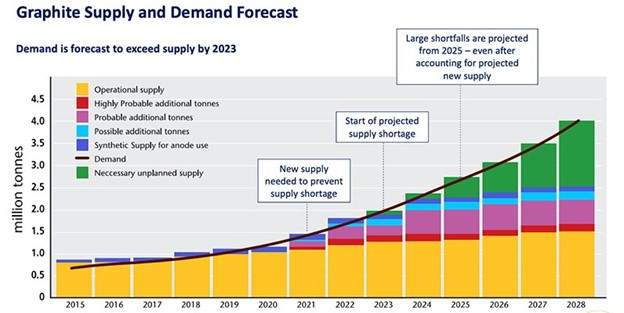 The IMF expects an 85% gap between supply and demand by 2050.
China Isn't the Only Place With Graphite Deposits 
Most plans to address the shortage involve increasing production in China.
Even if those plans pan out, they don't address the overreliance on China.
This is where companies like Northern Graphite Corp. (OTC: NGPHF) offer a potential solution.
It's looking to bring graphite mining to North America.
It spent most of last year testing the quality of graphite in Canada.
It's currently funding mining facilities in Ontario. And it has another graphite project in Quebec.
But graphite isn't the only EV material in short supply that we rely on China for.
Ian King talks about another key EV material in his Strategic Fortunes service.
There's a company that's set to profit from the material by ending China's dominance over it.
You can learn more about Strategic Fortunes by clicking here.
Regards,
Research Analyst, Strategic Fortunes