There's a very simple way of tracking demand in the market that most people overlook.
That's the number of stocks trading at their highest price in the past year. This is also referred to as making 52-week highs.
It shows that people are willing to buy stocks at a high price. And that's crucial for the stock market to go up. If people didn't think stocks were a good investment, the prices would fall until they reached an "acceptable" price to buy at.
New Market Highs
Well, this past Monday, as you can see on the chart below, 369 stocks trading in the United States made new 52-week highs.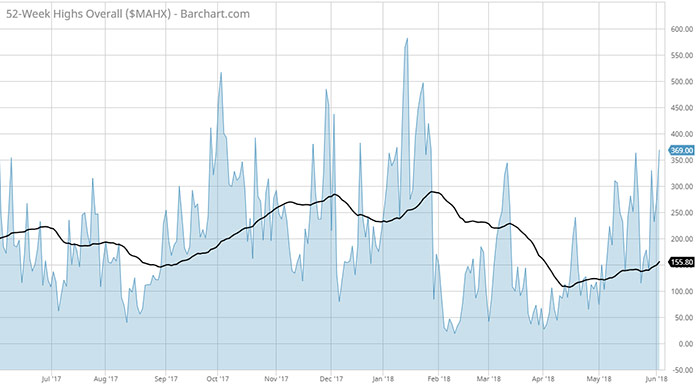 Overall, that's the most new highs since January 29. At that point, the market was still at its peak. However, it looks like demand is coming back as buyers continue to return.
The black line in the middle shows the average new 52-week highs recorded over the past 50 days. The fact that we're far above that average right now is a good sign that stocks are in heavy demand.
Only 20 times over the past year have more stocks made new highs than they did this Monday. To me, that's a sign that new market highs aren't far ahead.
In fact, the Nasdaq Composite Index just made a new all-time high. That shows that there's a lot of demand in tech stocks, as the Nasdaq is made up of mostly tech companies.
And the Russell 2000 Index has hit new highs this week as well. This index is a gauge on small companies, which are relatively risky.
If people are willing to push the Russell 2000 to new highs, it shows that there's tolerance for risk.  That's another promising sign for the overall market.
How to Invest
To take advantage of all the stocks making new highs, there are a few exchange-traded funds (ETFs) available.
First, you can buy the overall S&P 500 Index through the SPDR S&P 500 ETF (NYSE: SPY).
To buy the Nasdaq, the best choice is the PowerShares QQQ ETF (Nasdaq: QQQ).
And to buy the Russell 2000, your best bet is buying shares of the iShares Russell 2000 ETF (NYSE: IWM).
Regards,
Ian Dyer
Internal Analyst, Banyan Hill Publishing