You saw this before. Stock prices in an industry move up. Analysts agree the outlook is bullish.
It's a new market. It "can't miss."
You remember this scenario from the 1990s. It was the internet then.
If you're old enough, you remember this from the 1980s. It was personal computers then.
If you are a seasoned citizen, you might remember this from the 1960s. It was bowling alleys then.
Bowling Alley Bubbles
I know few of you remember that bowling alley bubble. I'm going to describe it, but please remember it was more than 50 years, and political correctness didn't exist back then. No one would make this kind of argument today.
By the early 1960s, vacuum cleaners and washing machines were in most homes. Packaged food was increasingly available and affordable. These and other developments were making life easier.
Wall Street analysts began wondering what housewives would do with all their free time. Remember, this was a different era, and I'm just noting the history.
Analysts sell themes. They came up with the theme that home appliances and other conveniences would increase leisure time. So, housewives would spend more afternoons in bowling alleys instead of cleaning their homes.
It was a "can't miss" trade. Prices of leisure stocks soared, including bowling alleys, and then crashed when the story failed to work out as expected.
Is Marijuana the Next Bowling Alley?
Now, we're seeing similar "can't miss" reports on marijuana. The story, once again, makes sense.
This is a market that has existed for decades. Demand is there. But the market was in the shadows because marijuana was illegal.
Now, suppliers are meeting demand in a legal market. Stocks of companies in the marijuana industry should all soar. At least that's the story analysts are selling.
Reality has been different. So far, this has been a "sell the news" market.
Marijuana is now legal in Canada. Stocks, measured by the Canadian Marijuana Index, sold off on the news.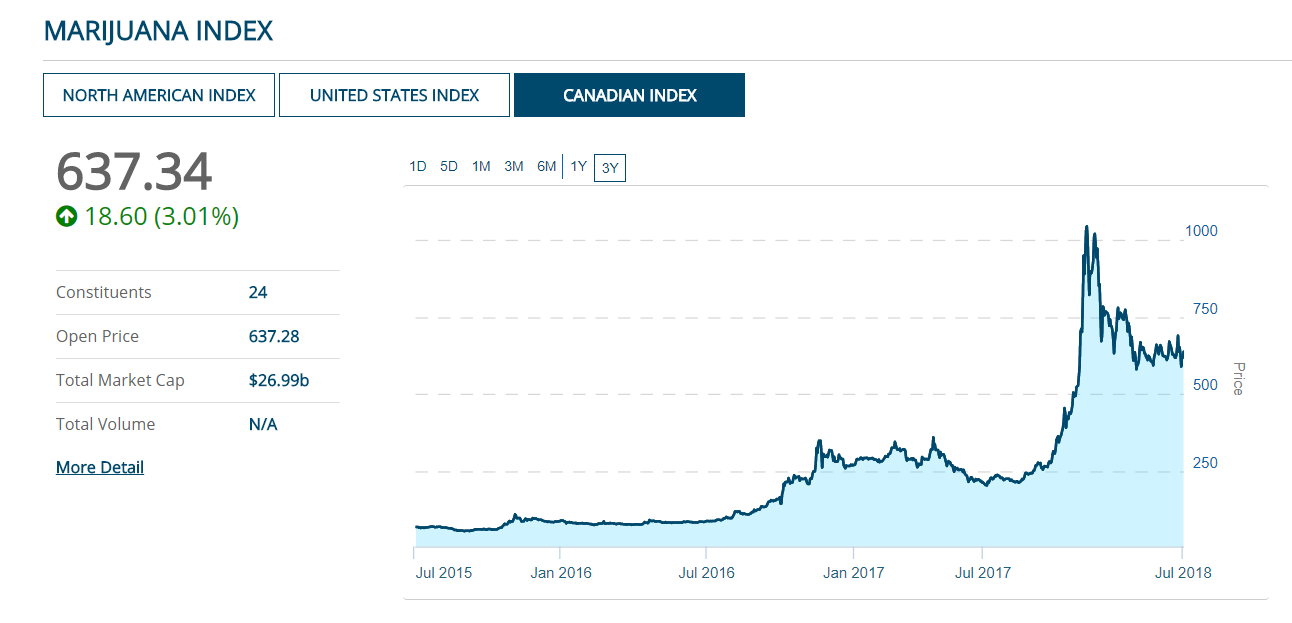 (Source: MarijuanaIndex.com)
A similar pattern unfolded in the U. S. The Food and Drug Administration recently approved the first drug derived from marijuana. The stock of the company that developed the drug, GW Pharmaceuticals (Nasdaq: GWPH), sold off on the news.
GWPH fell more than 20% after the drug's approval. For traders, the anticipation of legal sales is more important than the reality of the market.
This is also the pattern we saw in the price of marijuana after legalization. Colorado was an early mover, and was the first state to approve of recreational use.
Barriers to Entry
According to recent data, a pound of marijuana now costs an average of $846. When marijuana was legalized in January 2015, the average cost was $2,007 per pound. It's declined steadily since then, dropping more than 33% since the beginning of the year.
The problem is supply. Legalization draws more and more growers into the market.
There really aren't any barriers to entry for growers. All it takes is a few seeds. Larger operations are more sophisticated, but marijuana is a product that finds a market regardless of quality.
The news is not all bad. Thinking back to the 1960s, some bowling alleys did survive. Some traders made fortunes buying and selling the stocks.
It just wasn't a buy-and-hold market. Many individual investors who bought into the broad theme suffered large losses.
Marijuana will also create millionaire investors. But it won't be easy.
This is a market that requires research. Index investing, or buying any company in the industry, won't work anymore.
Now it's time to focus on selectivity in the marijuana, and investors should buy only the high-grade stocks.
Regards,
Michael Carr, CMT
Editor, Peak Velocity Trader