There is life in the junior mining space.
I don't mean that shares are rocketing higher (yet). What I mean is that there is money coming back in. Companies can raise long-awaited and much-needed cash.
What I see right now, as I write this from the Mining & Investment Latin America Summit in Lima, Peru, is proof that a major bull market is coming. The kind of bull market that can make us rich.
To understand why, we need to look at the recent past.
A Disappearing Sector
Investors spent five years (from 2011 to 2016) fleeing the junior mining sector. You can see what I mean in the chart below: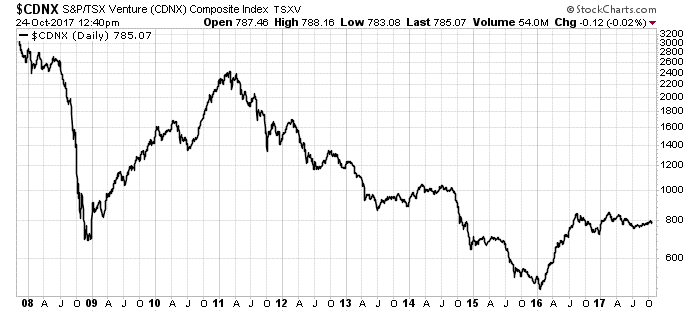 This chart shows the Toronto Venture Index (TSXV). The TSXV is a Canadian stock exchange that holds over 1,649 small-cap companies. It holds 989 mining companies, about 60% of the listings.
Out of those 989 miners, there have been 918 financings so far this year. That's where the companies raised money to do work. In all of 2015, there was only about half that many.
That's important, because these little companies have no way to generate cash themselves. They must go out and raise money by selling shares.
They pitch an idea to investors, who buy in. The companies then test the idea. Success drives the share price up, and investors win.
If there is no cash, nothing happens, and nobody wins. Companies faced a long, slow strangulation of the cash flow from 2011 to 2015.
They cut back staff and expenses. Then they cut again … and again. Many companies disappeared — through bankruptcy or otherwise.
Pulp and Paper
To put that in perspective, there were 2,500 issuers on the TSXV in January 2013. Today, as I said, there are only 1,649. As recently as March 2015, there were as many as 1,400 junior miners.
Back then, Rick Rule, the chairman of Sprott Global Resource Investments, called these companies "pulp and paper" manufacturers because all they did was produce paper filings to meet exchange listing requirements.
One analyst found that there were 598 companies that had a negative net working capital of C$2 billion. And so, they went away.
Today, the companies that survived the purge remain. And these companies are generating ideas that investors like. The cash is flowing back into junior mining … and that's a good thing.
The Sweet Spot for Investors
Over the years, I've made some fantastic gains in this space — both personally and professionally. The run from 2009 to 2011 was the best market I've ever seen. It was nothing to book hundreds of percent gains in just months.
The coming bull market will make that look boring.
You see, the mining industry is near a crisis point. It wasn't just the juniors that needed cash. Senior mining companies stripped capital from everything — development projects, sustaining capital and investments in new projects.
That's a problem. Great mining companies should look like O'Hare Airport, but with projects instead of planes.
You need producing mines — or planes at the gates. You also need new mines — like planes taxying in. And you need future producers — like planes preparing to land.
However, the downturn killed off many of the nonproducing projects. And it takes years to develop mines. The five-year hiatus in investment will constrict future supplies of critical metals. That's why metal prices like zinc and copper are rising.
That's also why junior mining companies have cash today.
Cash today means mines tomorrow. And the sweet spot for investors is coming. This cash will spur the next wave of new discoveries. That's when we make thousands of percent gains.
Good investing,


Matt Badiali
Editor, Real Wealth Strategist