On Tuesday, the price of bitcoin plunged from $10,908 to $9,723. Nearly 11% in just 13 hours!
If that happened in the stock market, it would be a 2,846-point collapse in the Dow Jones Industrial Average.
On the Dow chart of the last two months, it would look like this: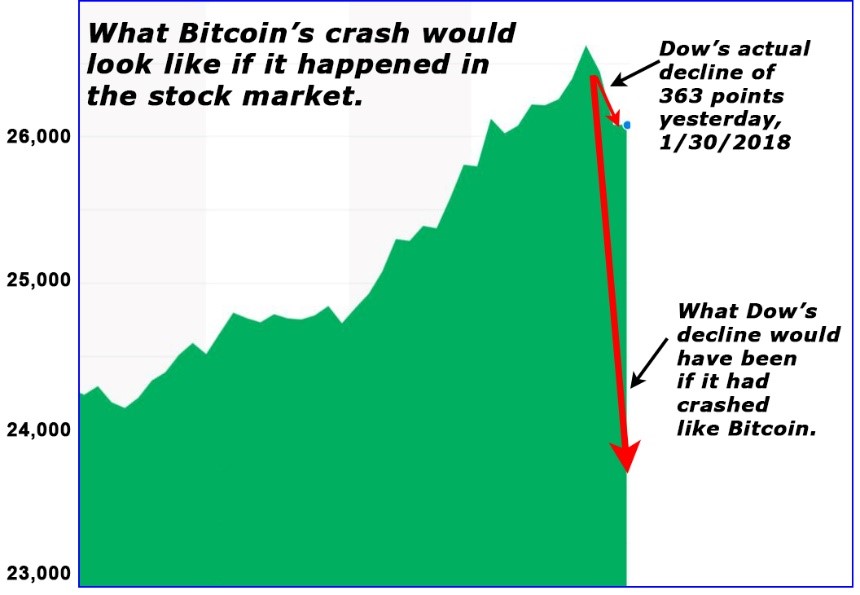 You'd see the shock and awe in this morning's news headlines:
"LOOK OUT BELOW!"…
"WORSE THAN 1929!"  or…
"WALL STREET DUMPS ON TRUMP!"
But in the crypto world, even with 10% crashes, most folks barely bat an eyelash.
Bitcoin Lovers
Crashes of 10% or more in a single day are not uncommon for cryptocurrencies. They happen pretty frequently, actually. So do 10% surges.
Also, common: 1,000% gains like bitcoin investors saw in 2017.
That's why most bitcoin lovers are long-term "buy-and-hodlers."
No, that's not a typo. It's crypto-slang for the old-timers in the market since the early 2010s, many becoming millionaires and billionaires simply by sticking with it through thick and thin.
What about last year's horrible Christmas Crash that saw bitcoin plunge from an intraday peak of about $20,000 to less than $10,000 in two weeks flat?
"Bah! We don't care," say bitcoin veterans. "And if bitcoin made you millions or billions of dollars like it did for us," they rave, "you wouldn't care either. We've seen the same thing happen before, or worse. After the last big crash, bitcoin surged more than 20-fold. We love bitcoin. That's why we're 'hodlers' and always will be."
So you can imagine their outrage last Wednesday when we announced the first-ever crypto ratings and had the audacity to peg bitcoin at a lowly C+ ("fair").
The Sound and the Fury
The fury actually started Tuesday night, about 10 hours before the scheduled inaugural release.
Our staff had gone home. Some were already retiring for the night.
Suddenly, they got an alert that our website was under a fierce denial-of-service cyberattack from Korea … and, at the same time, was getting a surge of friendly visitors from around the world, with over 100,000 users hitting the page in a short burst of time.
No worries! We immediately erected defenses. We instantly expanded our server power on the cloud eightfold. And we released our first crypto ratings Wednesday morning as planned.
All good … or so we thought. Within minutes, fake "Weiss Ratings" were posted all over the internet.
Again, we reacted immediately, tweeting this urgent consumer alert:
CNBC helped. They promptly picked up our tweet. They dropped it into their web article under the headline "Ratings firm issues first grades on cryptocurrencies, sparking outrage online and a cyberattack." And we figured the crisis was over.

"That takes care of that," I said.
Famous last words!
The King of Crypto
As it turned out, the big outrage was not about the cyberattack. Nor was it about the fake ratings.
What made bitcoin lovers so angry was the actual Weiss Rating, especially "that nasty C+."
The big disconnect: Most were expecting ratings that reflect strictly the strength of each cryptocurrency's blockchain technology and its network performance. Remember: They're "hodlers." They don't care about intermediate crashes.
But most investors do, especially if they're new to the market and don't have a cushion of huge profits in the bag to fall back on. So in addition to the technology and fundamentals, we also look at the price action, especially with regards to the four-letter word that investors often forget: R-I-S-K.
Plus, bitcoin has some other challenges to overcome: a clogged network. Merchant pushback. Concentration of miners. And a chronic inability to promptly upgrade bitcoin technology. (I'll give you the details next time.)
In the meantime, if you own bitcoin: hold. It's still the king of cryptocurrencies, the most widely used and the biggest of them all.
Other than the extreme volatility, it is indeed like owning the Dow 30.
Also coming soon: some cryptos we rate "buy."
Good luck, and God bless!

Martin D. Weiss, Ph.D.
Founder, Weiss Research
Editor's Note: Front Line Profits Editor Matt Badiali is one of the most pre-eminent analysts in the natural resource sector. And you now have the opportunity to join him as he takes aim at no fewer than 15 opportunities to go for 1,000% gains in the next 12 months. With incredible profits like that, you can make $100,000 in the next year … and upward of $625,000 or more in the 24 months that follow. But to take advantage of these thrilling opportunities, you need to join Matt's new research service by tomorrow, February 1, at midnight EST. To find out more, click here now.