"This is a gelsi." My host, Francesco, gestured to one of the large mulberry trees that dotted the property.
There were only a few of these trees. This one hung with sweet, white fruit. The trunk was too big for me to wrap my arms around.
Francesco's family owns a beautiful working farm on the northern coast of Sicily. Tucked into a fold in the hills, it commands a beautiful ocean view. In the distance, the Aeolian Islands pucker the horizon. The farm boasts several acres and many hundreds of olive trees.
According to Francesco, his family bought the plantation during a financial crisis in the 1800s. Back then, the farm was planted with mulberry trees to support the Sicilian silk industry. At the time, silk was a rare commodity. It commanded high prices and supported a large industry.
Silk came to Sicily in 1147, after the Second Crusade. The Norman King Roger II of Sicily conquered Corinth and Thebes. From there, he brought back the trees and the worms to make silk. It thrived for several hundred years.
However, the Industrial Revolution and a blight on the mulberry trees crippled the Sicilian silk trade. By the time Francesco's family purchased the plantation, silk in Sicily had all but died out. They were able to buy the farm cheap thanks to the crisis.
The new owners cut most of the mulberry trees down and returned the farm to its roots: olives.
Commodity Cycles
This is a story of how to use commodity cycles to get rich. It's not new, nor unusual. Francesco's family seized an opportunity to buy an asset that is worth many times that original price today. It's how wealth is built through time.
I had a similar experience. I own a house that I bought out of bankruptcy during the financial crisis. I could not afford to buy it today, but back then, it was a steal.
This is a common story, and it happens often. It's not about luck … it's how savvy people build wealth.
And it's happening right now, as we speak.
Commodities Are Cheap
Take a look at this chart: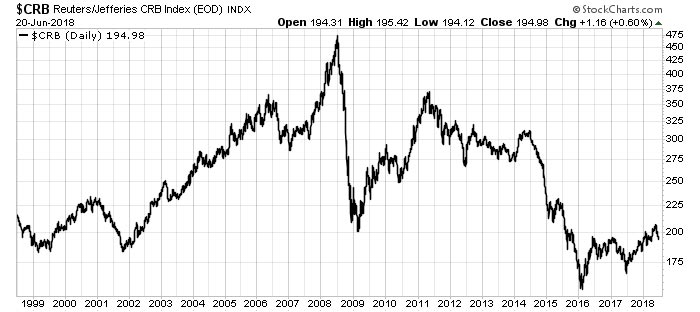 This is a chart of the Commodity Research Bureau's commodity index. It tracks the futures prices of 19 core commodities. Things like aluminum, coffee, cocoa, cotton, oil, gold, hogs, etc.
You can see that, over 20 years, there were several cycles. Today, we are at 194, less than half the value the index hit in 2008.
While we are not at the bottom, we are still early in the cycle. In other words, it's a great time to be investing in commodities while they are cheap. And they will not stay this way … they never do.
So if you want the opportunity to create a large amount of wealth over the next few years, you must own commodities. The easiest way to do that is to buy an exchange-traded fund (ETF) like the Invesco DB Commodity Index Tracking Fund (NYSE: DBC) or the iPath Bloomberg Commodity Index Total Return ETN (NYSE: DJP).
These are large funds that track commodities as a group. They're not the only ones out there, so do a little homework first. But definitely get exposure to commodities in your portfolio.
Good investing,
Matt Badiali
Editor, Real Wealth Strategist