On Tuesday, the Dow Jones Industrial Average snapped an eight-day losing streak — its longest losing streak since 2011.
Of course, this brings out the pundits wanting to raise the alarm bells about the market falling off a cliff.
It's times like this that it's important to dive into the data and see what the losing streak really means.
And honestly, it's nothing to be concerned about.
Take a look at this chart: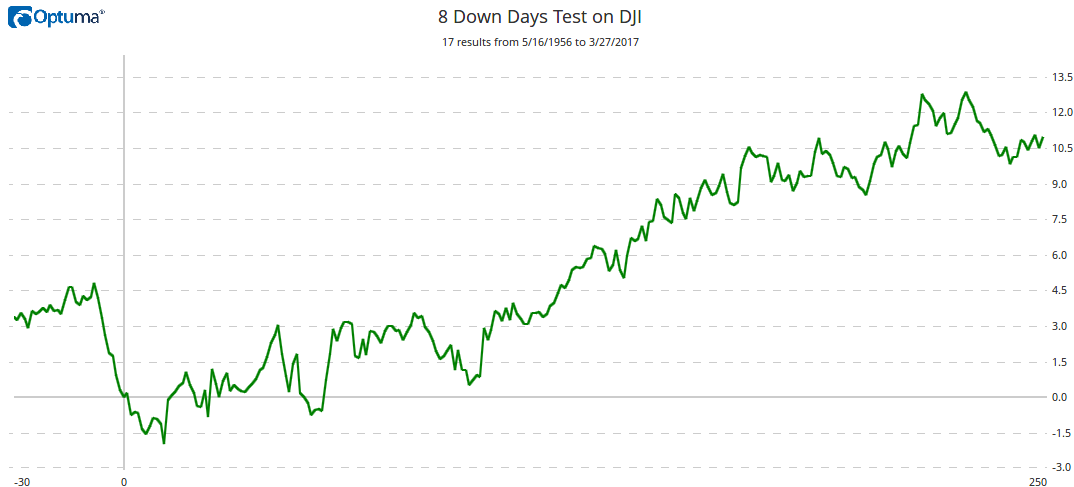 It's the average return for the Dow when it falls eight days in a row — exactly what we just experienced.
The number at the bottom left tells you that the chart starts 30 days before the decline, and the zero indicates the day we hit eight consecutive losses. Then I tracked the average return over 250 periods, which represents about a year of trading days in the market.
As you can tell, it's overall a nonevent, as the market continues to climb afterward.
That wasn't always the case, of course. It was down twice out of the 17 times it occurred, and several of the times it was up was marginal, with larger dips shortly after.
That's why we see the Dow linger at low levels for a bit, but then continue higher.
Overall, this isn't a worrisome signal for the markets.
So we can continue to invest with confidence despite experiencing the worst losing streak since 2011.
Regards,


Chad Shoop, CMT
Editor, Automatic Profits Alert