Greece is almost a synonym for unending economic crisis. Its gross domestic product remains 27% below its 2007 high. Unemployment is still at 22.6%, according to the latest data.
Despite the problems, investors are buying Greek stocks. The chart below shows the Dow Jones Global Indexes Greece Stock Index, a benchmark for the country. The one-year rate of change (ROC) in the index is at the bottom of the chart. Vertical blue lines mark the ROC's moves above 40%.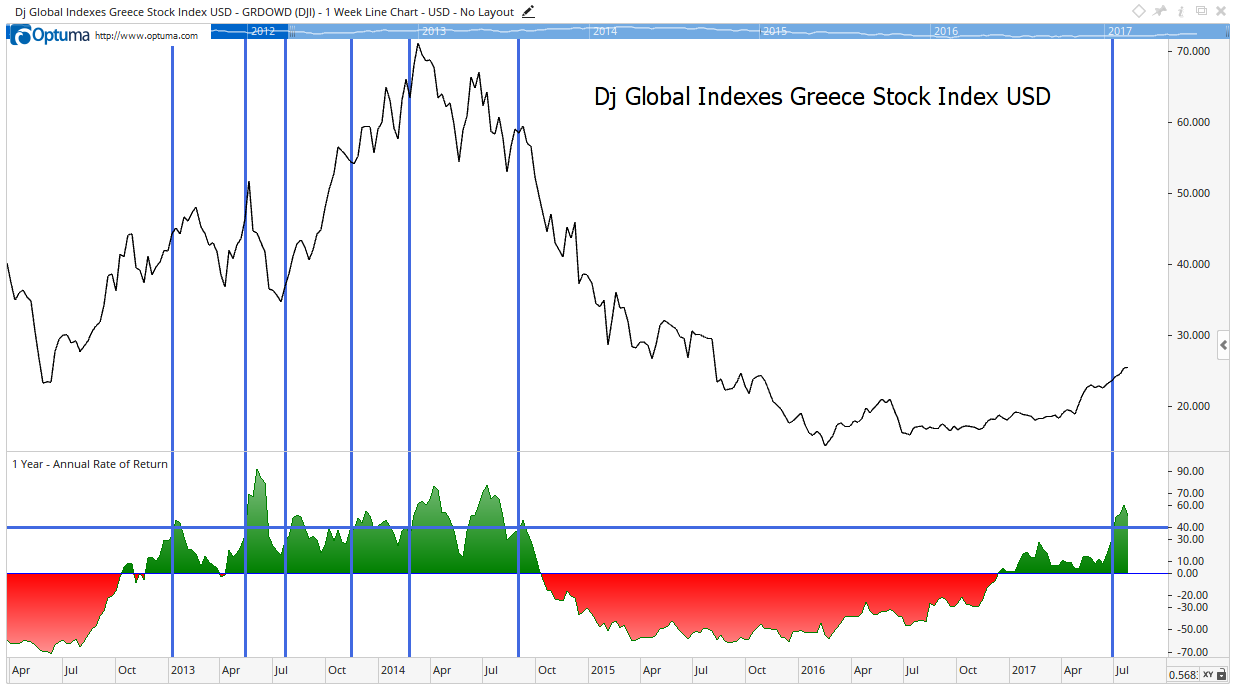 The one-year ROC is a bubble indicator. When stocks rise faster than 40% a year, it is just too fast. That pace cannot be sustained, and we almost always see a market sell-off after this happens, even if it doesn't always occur immediately.
The chart shows six previous occurrences, and each one was associated with a market decline. This isn't unique to Greece. The 40% level in the one-year ROC preceded sell-offs in other markets, including the U.S. stock market.
All that's needed is a catalyst for the selling to begin. In Greece, the catalyst may arrive as soon as this week.
CNBC is reporting that the Greek government may issue bonds before the end of July. This would mark the first time since 2014 that Greece issued bonds.
The country's finances are still perilous. Greece made minimum payments on old debts this summer only because the euro zone agreed to give the country €8.5 billion ($9.2 billion).
Stock market investors may realize the government is tapping the bond market to continue avoiding fiscal responsibility. With the stock market flashing a bubble warning, the sell-off that follows could be steep.
Regards,



Michael Carr, CMT
Editor, Peak Velocity Trader