The summer driving season brings with it higher prices at the pump.
In a race to meet demand, refiners produce as much gasoline as they can.
Take a look at the chart below from the Energy Information Administration (EIA):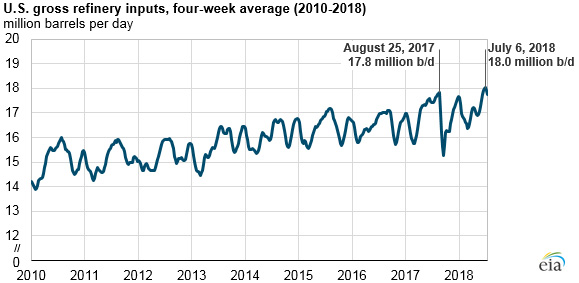 Refiners hit their stride this summer with record output. They processed 18 million barrels of oil per day on average.
That edged out last year's record of 17.8 million barrels prior to Hurricane Harvey knocking down refinery output.
This is a sign of changing times. America is becoming energy independent.
Great News for the Energy Industry
Last year, America hit a new record in oil and gas production. We surpassed both Russia and Saudi Arabia in energy production.
After decades of relying on imported oil, American producers are maxing out pipeline capacity.
Investments into pipelines and refineries are allowing us to process more of this oil.
The EIA estimates that we will become a net energy exporter by 2022.
That's great news for the energy industry.
The midstream and downstream sector, companies that transport, refine and sell energy, are growing.
Energy producers will benefit from this streamlining. They can pump more oil and make more money per barrel with the improving infrastructure.
The Next Bull Run in American Energy
The American energy revolution is showing promising signs. After years of weak oil prices, the energy sector is seeing a revival with oil over $60 a barrel.
To capture the next bull run in American energy, consider these two plays: the SPDR S&P Oil & Gas Exploration & Production ETF (NYSE: XOP) and the Alerian MLP ETF (NYSE: AMLP).
The XOP ETF holds American energy companies that closely track the price of oil. It gained over 30% in the last year alone.
The Alerian MLP ETF holds companies that create and run America's energy infrastructure. It offers a strong yield of 7.6%.
Good investing,
Anthony Planas
Internal Analyst, Banyan Hill Publishing