If you invested in Chinese stocks this past year, you're probably getting a little worried right now.
In the past month, we've seen Chinese retail sales come in lighter than expected. We've seen Chinese gaming powerhouse Tencent report its first year-over-year profit drop in a decade. We've also seen online retailer JD.com report a second-quarter loss.
Underlying this apparent wave of weakness rolling out of China is the growing trade war with the U.S. Analysts are claiming that light retail sales in China are proof that President Donald Trump's tariffs are having a broader impact than previously expected.
I would argue this is more of an effect from a weakening yuan than the tariffs, especially in Tencent's case as most of the company's products are not affected by tariffs.
What's more, the panic surrounding falling growth in Chinese retail is vastly overblown. The most recent reading on Chinese retailer growth slipped from 9% to 8.8%. Many U.S. retailers would kill for even half that growth right now.
What it all boils down to is a stark difference in ideology. While most U.S. investors are focused on the right now, Chinese regulators have taken a much longer-term view.
Because of this, they step in and slow things down from time to time to keep the economy from overheating. This tends to be a system shock to U.S. investors, who are looking for outsized gains over shorter time frames.
However, this strategy bodes well for long-term growth and value investors — even in the red-hot tech sector.
And it is exactly because of the recent decline in sentiment toward Chinese stocks that many are trading at considerable bargains right now. What's more, you don't have to agree with China's politics to take advantage of the situation.
There are an excess of Chinese stocks you could take aim at amid this downturn. But there is one Chinese firm that is a veritable steal right now.
This company controls one of the largest online retail platforms in the world, as well as the world's largest mobile and online payments platform and the world's largest money market fund.
So, are you ready for another free trade this Friday afternoon?
So Much More Than E-Commerce
One of the biggest misnomers about Alibaba Group Holding Ltd. (NYSE: BABA) is that it is just an e-commerce company.
This misconception comes from the repeated comparisons to Amazon, which, despite streaming content and a market-leading cloud services unit, is largely dependent on e-commerce revenue.
On one hand this comparison is easy to make. Alibaba operates the largest online shopping center in the second-largest economy in the world. The company is also among the biggest cloud services companies in the world, rivaling the likes of Amazon's AWS and Microsoft's Azure.
But Alibaba has something that none of these other companies can compete with. That is a massive presence in the financial and online payment processing markets. Specifically, Alibaba owns Alipay and has a controlling stake in Ant Financial.
Alipay is a mobile and online payment platform that overtook PayPal as the world's largest mobile payment platform back in 2013. Ant Financial, on the other hand, is the highest-valued fintech company in the world at $150 billion — that's considerably more than Goldman Sachs.
Let all this sink in for a moment. To get an Alibaba-like company, you'd have to combine Amazon, PayPal and Goldman Sachs. And even then, you'd still fall a bit short since Alibaba subsidiaries dominate two out of those three markets.
As you'd expect, this combination has provided excellent results for Alibaba. The company has averaged mid double-digit percentage growth in revenue and earnings for the past two years.
For the quarter that ended in June, analysts are projecting revenue growth of 60.5% to $11.76 billion. And that's with yuan troubles and Trump's tariffs in effect. Additionally, revenue is projected to grow 62.5% next quarter and 58.8% for fiscal 2019.
Furthermore, there's even talk of an Ant Financial initial public offering down the road, which could bring in even more cash for Alibaba.
Investing in Alibaba Stock
As I noted above, Alibaba shares are a steal right now.
BABA stock is trading near long-term support in the $170 region, pressured there by overwhelmingly negative sentiment toward Chinese stocks across the board. This selling pressure has been overdone, and BABA stock should correct higher in the coming weeks.
An additional factor underscoring BABA stock's discount is its price-to-earnings ratio of 46.17. This may seem high, but it is a fraction of Amazon's 147.57 reading. And, as I detailed above, Alibaba's prospects for revenue outside of e-commerce make it a considerably better value than Amazon.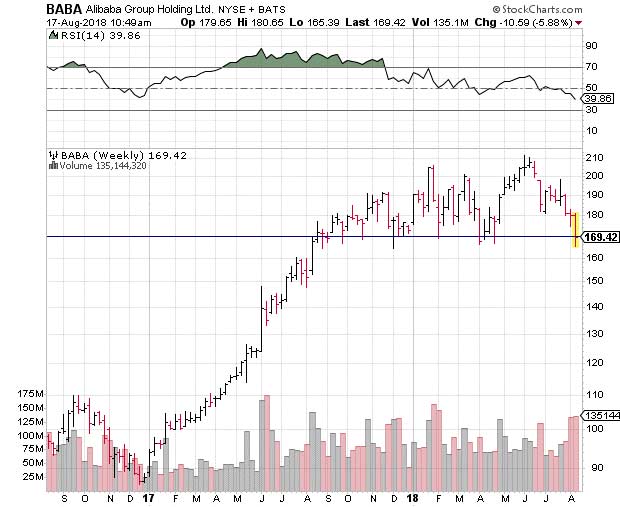 Finally, as you can see in the chart above, BABA's 14-day Relative Strength Index (RSI) is quickly nearing oversold levels.
The shares have at least a 17% upside before they hit technical resistance in the $200 region. A breakout above $200 would confirm the longer-term uptrend and result in a potential move to $250 before slowing down.
With earnings slated to hit on Thursday next week, the current pullback in BABA stock makes the shares a buy right now.
Until next time, good trading!
Regards,
Joseph Hargett
Assistant Managing Editor, Banyan Hill Publishing