The worst thing about value investing is that undervalued sectors often stay that way for a lengthy period.
Then again, that's also the best thing, since it gives all of us a chance to jump on board just before a powerful catalyst comes along to drive these stocks higher.
I believe that's the case right now with the telecom industry.
Take for example the iShares Global Telecom ETF (NYSE: IXP), with its portfolio of four dozen or so global telecom biggies.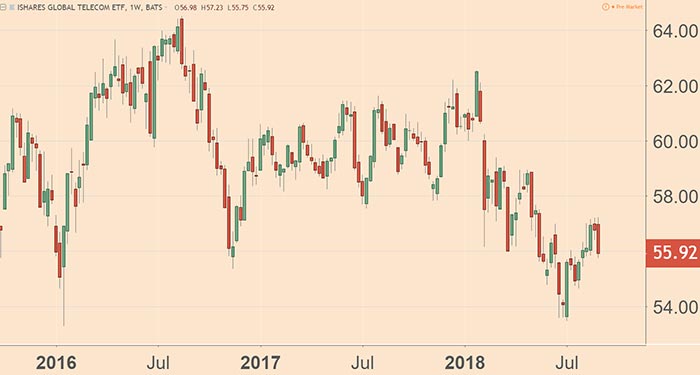 (Source: TradingView.com)
A few months ago, I mentioned this group of companies was selling for less than its book value. It's improved a tiny bit, but its stocks are still priced at a discount.
That won't last for much longer with the rollout of superfast 5G internet deployments.
The Big Deal With 5G
For instance, AT&T recently named Indianapolis as the latest U.S. city (alongside Los Angeles, Atlanta, Charlotte, Dallas and a few more) where it will soon flip the switch and turn on its 5G infrastructure.
Is it a big deal, or just big hype?
Analysts at Cowen, an equity research firm, think 5G deployments are a big deal indeed — both for investors and broadband competitors like Comcast, Charter Communications and others.
In a recent report, Cowen's researchers said" "We see 5G […] as the biggest existential threat to broadband providers (by far)."
The reason? Well, 5G is a magnitude faster and more powerful than even the fastest wired-broadband speeds today.
Cowen's analysts believe customers won't just want to pay a premium for it on their mobile phones — but will also want to use it for their home Wi-Fi as well.
That means they'll eventually abandon their wired-broadband providers in favor of this newer, wireless technology.
Faster Than High-Speed
Right now, our "high-speed" wired data connections clock in at an average download rate of around .06 gigabits per second. Our wireless phone networks are even slower, with an average transfer speed of .02 gigabits per second.
With 5G internet service, your download speeds would be more than 10 times faster — at least one full gigabit per second.
For that reason, S&P Global Market Intelligence noted a significant chunk of Charter Communications' 2.8 million subscribers in the Los Angeles area could soon be up for grabs as subscribers switch to 5G-enabled streaming alternatives offered by Apple, YouTube and others.
My point is, you want to start looking for winners and losers in this industry now.
I have subscribers of Total Wealth Insider in one such winning company — it's already up double digits in less than a year.
No More Cable Guy
If you happen to read this on your home computer, then chances are your data's coming from a broadband modem.
When you order broadband, a technician may have to drive to your house to physically make the connection between your home network and the broadband network. It's the same for repairs.
But 5G dispenses with all that. No more waiting for the cable guy to show up.
And think about the eventual savings for providers of 5G wireless services (like AT&T) that also provide broadband-type services as well.
The company could send its users a 5G modem with one wire — the power cord. After that, the 5G network and the Wi-Fi modem connect automatically, just like when you buy a cellphone at a store and have it activated.
Ride the Global 5G Trend
Lastly, the coming rollout of superfast 5G internet will be a global phenomenon.
Juniper Research recently ranked Japan's NTT Docomo as its "most promising 5G network operator." Other major telecom providers, like China Mobile and South Korea's SK Telecom, are among its top 10 companies on the right path to 5G profits.
You can see where this is heading. As U.S. telecoms and their global counterparts start their deployments, I don't expect their market valuations to stay depressed for long as major Wall Street investors "discover" this undervalued sector of the stock market.
That's why I expect the iShares Global Telecom ETF to rise at least 25% in the next two years (and for the best individual operators to rise much higher than that).
Right now, global telecoms are trading at depressed valuations. The last time they traded above book value as a group was in 2007.
But in the next four years, analysts expect about 800 million people to subscribe to 5G internet services worldwide, rising to 2.7 billion by 2025.
As Wall Street and the rest of the worldwide investor community take notice, I expect them to assign a much higher value to telecom shares. Those who buy now can ride that trend to sharply higher profits.
Kind regards,
Jeff L. Yastine
Editor, Total Wealth Insider