When it comes to investing, there are two kinds of stocks: those with value, and those that are "value traps."
What's the difference?
The epic debacle of one hedge fund offers clues. Bruce Berkowitz, founder of the Fairholme Fund, once controlled $20 billion worth of assets at the fund's peak in 2011. The fund is now worth less than $2 billion.
His bet on Sears Holdings Corp. (Nasdaq: SHLD) provides a warning on how looking for value in an individual stock can lead an investor over the edge.
Sears Has Had Its Day
As recently as June, Berkowitz told investors Sears was worth $90 per share based on its real estate and valuable brands, according to Reuters. The company's operating losses, he said, were impeding the realization of that value in the company's stock price.
I don't know about you, but Sears doesn't look to me like it's going to $90 anytime soon — or ever: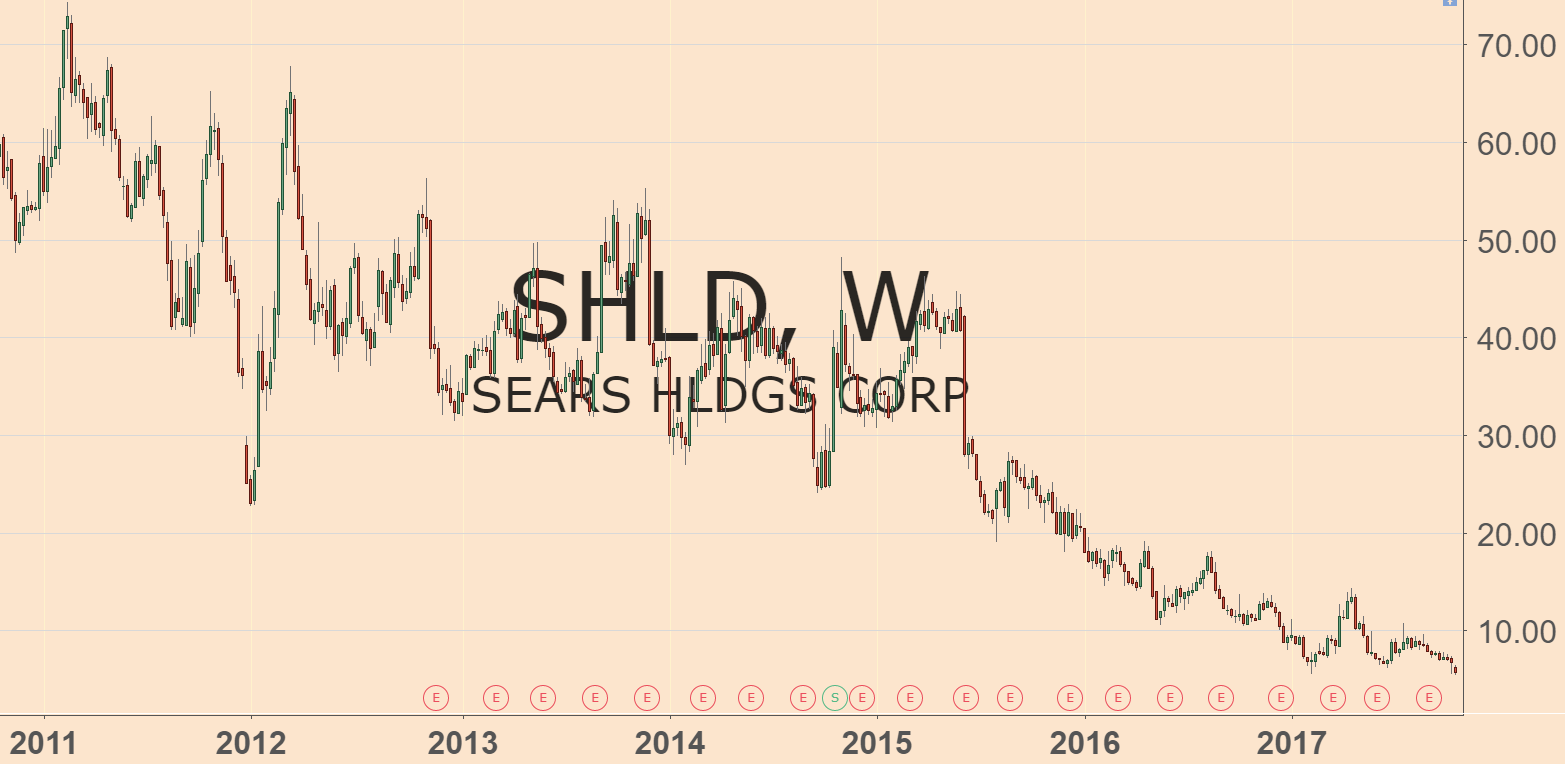 (Source: TradingView.com)
The problem for Berkowitz, and any investor, is looking beyond a company's financial statement, and recognizing when the company's "had its day" — and no amount of new capital is going to turn it around.
You can sell and spin off assets — Sears Chairman Eddie Lampert (a hedge fund veteran himself) authorized the sale of Sears' Craftsman brand for $900 million. He also created Seritage Growth Properties (NYSE: SRG) as a holding company for the real estate underneath Sears stores around the U.S. Warren Buffett is reportedly an investor in those shares.
But Sears the retailer? Its final chapter was already being written in the 1980s, when Wal-Mart began expanding aggressively across the South and went national in the 1990s.
Some investors learn this early in their careers. Buffett famously invested in a struggling New England textile company in the 1960s, adding new capital by buying advanced looming machines for the operation. But at the end of the day, he realized no amount of extra investment was ever going to turn the company around.
The name of the struggling textile mill? Berkshire Hathaway. Buffett kept the name, but eventually sold off everything else.
For other value investors, like Berkowitz, they're forced to learn the same lesson later in their careers.
Kind regards,



Jeff L. Yastine
Editor, Total Wealth Insider