Dozens of retailers have declared bankruptcy this year. Others are on "death watch." Sears, for example, is widely expected to enter bankruptcy soon. But analysts are wrong, according to the company's CEO.
Despite $10 billion in losses in the last seven years, CEO Eddie Lampert told shareholders at the company's annual meeting: "We don't need more customers. We have all the customers we could possibly want."
Sears is unlikely to turn around until its CEO recognizes a problem. It could turn around if the retail sector picks up and carries all stocks higher, but, as the chart below shows, there's little hope for that.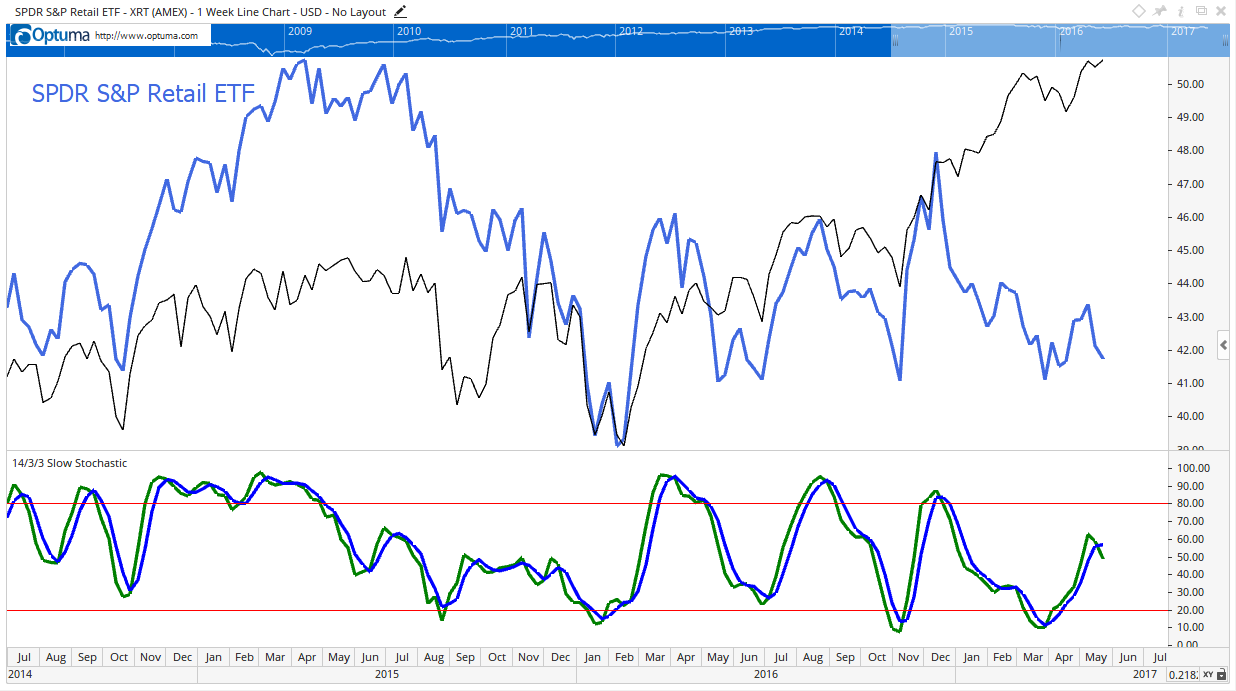 The blue line at the top of the chart shows the SPDR S&P Retail ETF (NYSE Arca: XRT). This exchange-traded fund is a proxy for the sector. The black line is the S&P 500 Index.
Notice the divergence between the two that has developed since the beginning of the year: The S&P 500 moved up while retailers fell. This reverses the close link between the two that lasted since the bull market began in March 2009. The price action is telling investors that there is more downside for retailers.
Momentum confirms that message. The stochastics indicator is at the bottom of the chart. This indicator measures momentum, or how strong the price action is.
Technical analysts believe that momentum leads prices. Momentum for retailers is locked in a downtrend. Until momentum breaks higher, prices are unlikely to turn around.
We are months away from a bottom in retailers. Some stocks in the sector should do well, but investors should be cautious. Companies down on their luck, such as Sears, are down for a reason.
Don't bet on turnarounds. Instead of bottom fishing, stick with market leaders.
Regards,



Michael Carr, CMT
Editor, Peak Velocity Trader