Dow 20,000 was a historic moment.
Whenever the Dow Jones Industrial Average crosses milestones as monumental as a nice, round number, it's something to be excited about.
But at some point that excitement will temper. The excitement over a new president of the United States will temper. And the stock market's expectations will temper as well.
This will lead to a correction, and I believe it may be in the cards sooner than most expect.
Right now things are going smoothly, but if President Donald Trump hits a road block or approaches one of his growth issues in a manner Mr. Market disagrees with, that could be what triggers a correction in the coming weeks.
I bring this up because even though the Trump rally was phenomenal to experience — up 10% in just over two months since the election, tackling the historic level of Dow 20,000 — it hasn't done much at all since mid-December. Take a look: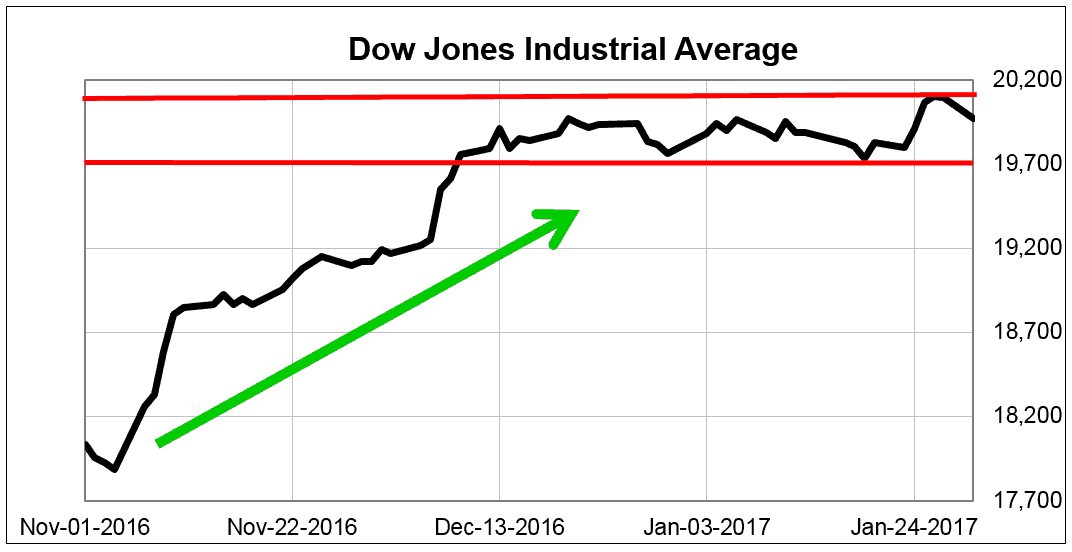 You can see that after the initial 7% to 8% rally that lasted just over a month, things began to slow down. And for the last month and a half, investors have failed to make any real advances in the broad market other than topping the famous "Dow 20,000."
I'm keeping an eye on that 19,700 level. A dip below that would signal a correction is imminent.
Failure to break below that level means we are either in for another leg higher, or continued sideways action for a little longer.
Regards,
Chad Shoop, CMT


Editor, Automatic Profits Alert
P.S. While I think the "Dow 20,000" buzz might lead some investors to disappointment, there's an amazing opportunity that you should be excited about. It's my colleague Paul 's Extreme Fortunes Summit webinar. He's finally able to show you his secret trading strategy that anyone can use to make crazy, 1,000%-plus gains on their investments in the next 12 months. Don't forget to sign up here to attend this groundbreaking event.