"Calabria? Don't waste your time. There's nothing to see in Calabria…"
I'm in southern Italy right now, visiting family. My plan was to drive to Sicily from Puglia and stop in Calabria on the way.
Calabria, the arch and toe of the boot of Italy, was part of Magna Graecia. That was the Greek Empire that existed before the Roman Empire. There are amazing ruins in the region and a beautiful coastline. But I made a mistake. I listened to my family…
The total lack of interest there was the common wisdom of my family in Puglia. Most hadn't been to Calabria … but they all had the same opinion.
"Don't bother… "
So, rather than stop along our drive to Sicily, as we planned, we drove straight through.
Huge mistake.
As we drove along the Ionian Sea coast, the view was spectacular. At one point, we came across a perfect medieval castle sitting on a rock out in the sea. The water was Caribbean blue. The empty beaches looked inviting, with a backdrop of mountains and olive groves.
It's a place we will return to for vacation.
On the drive, I reflected on this flaw in human nature. We tend to be dismissive of things we don't know.
That certainly affects investors.
Human Nature
I can't tell you how often conference audiences reject my ideas.
They ask hard, disbelieving questions. More comments, really. They buttonhole me after my talks, well-meaning folks trying to save me from myself.
For example, back in July 2017, I told attendees of the Sprott Vancouver Natural Resource Symposium about offshore drilling companies. Specifically, Transocean Ltd. (NYSE: RIG). At the time, Transocean was a much-maligned specialty drilling company in an unloved sector (oil).
They hated my talk. Oil was a dead sector — everyone knew that. Transocean was obsolete and going broke. How could I miss something so obvious?
Here's how that trade turned out: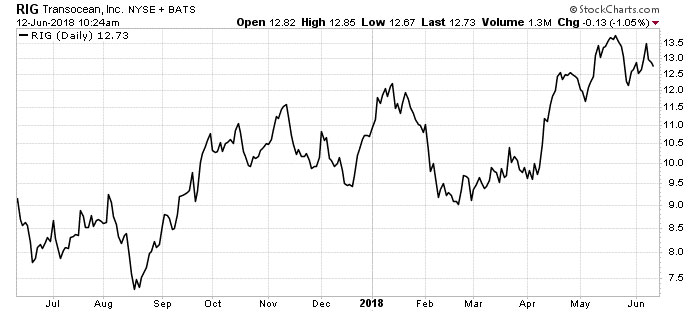 As you can see, if you bought after my talk, you paid around $8 per share. Today, it's worth over 50% more. That's a good trade in less than a year.
I'll bet no one in the audience bought that stock.
The Best Opportunities to Profit
It's hard to be a contrarian. To go against common wisdom. It's like walking upstream in a river … but that's where we find the best opportunities to profit.
When everyone agrees, you don't make money.
That's why we don't want to invest alongside everyone else. We want to go where others don't go…
My family's advice against Calabria is just another example. We should have spent a couple days in Calabria. Because it was beautiful and uncrowded — exactly what I want in a vacation spot.
In stocks, we also want uncrowded and unloved sectors. That's how you make 50% in less than a year.
Good investing,
Matt Badiali
Editor, Real Wealth Strategist