High-yield funds focus on what are known as junk bonds — high-risk bonds that are rated below investment grade.
Being hungry for yield-related assets is one thing. Throwing all caution to the wind when seeking yield is another.
And that's what we are seeing today.
In early 2016, the Bank of America Merrill Lynch U.S. High Yield fund had a yield north of 10%.
But with yield-hungry investors still seeking yield any way possible, that yield has fallen 40% and is now at 6%.
Take a look: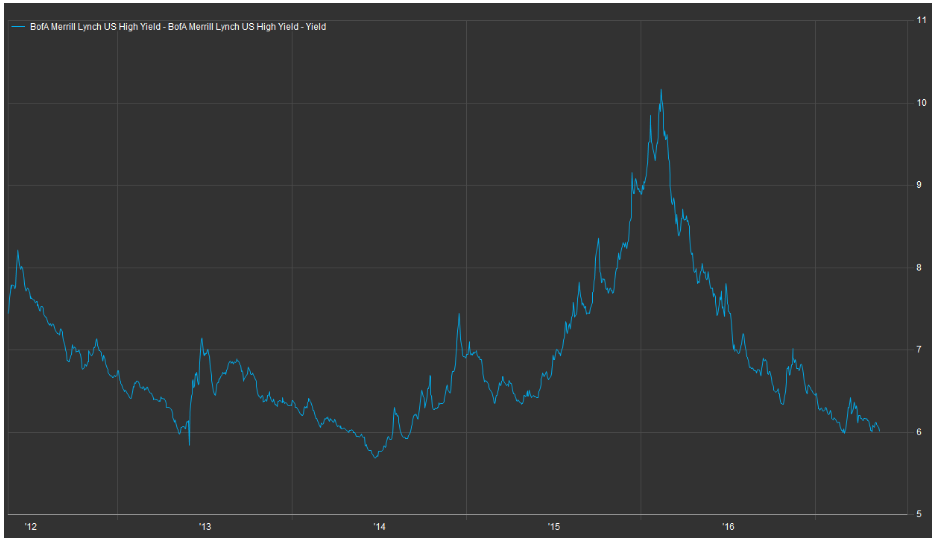 Investors who only get 6% yield on this fund today are taking the same amount of risk as investors who grabbed the 10% yield last year.
Still, it hasn't stopped investors who are looking to scoop up any kind of yield possible.
Apparently this 6% yield is worth the risk to some investors … but not to me.
When bond yields fall, the price rises. And when bond yields rise, the price falls.
So as bond yields rise again to account for the risk, prices will fall. And if you're holding on to high-yield bonds at the moment and aren't looking to hold till they come due, it's time to take your profits and move on.
Regards,


Chad Shoop, CMT
Editor, Automatic Profits Alert
P.S. Paul Mampilly's new service, True Momentum, shuts out all of the gossip from the media and ignores what Wall Street is telling you to do. Paul's strategy helped him scoop up Facebook despite the antagonism that spread from the moment it went public — an investment that subsequently handed him a 279% gain. To learn more about True Momentum and the massive opportunities that Wall Street and the media are missing, click here.