The next leg up in silver is underway.
Silver is the world's most fickle metal. Over the past couple of years, we've seen silver prices fall by 4%, 6%, 8%, even 12% … in a single day.
On the other hand, the price of an ounce can rise 5%, 6%, even 7% in a day.
That's an awful lot of movement for a commodity.
For investors, it means silver prices can soar and plummet rapidly. That makes it a great metal for speculators if you can stomach the volatility … or if you've got someone in the know when it comes to natural resources.
That's where my expertise comes in. And I believe right now is a great time to speculate on silver miners…
Don't Overlook Silver
As I explained in my interview with Jeff Yastine last week, I spent the last 11 years writing and researching great investments in the natural resources field for another financial publisher. Basically, I wrote the book on their resource investing franchise from scratch. At the same time, I learned plenty from some of the best financial analysts around.
Natural resources are a tough sector for most traditional financial analysts, but my experiences as both a geologist and a financial analyst have taught me to look for certain signs.
Recently, silver hit a low in January 2016 at $13.77 per ounce. From that point, it went on a tear, soaring 50% in just eight months to over $20 per ounce.
From August to December 2016, the price reversed course. It gave back around $5 per ounce — a 24% decline in four months.
Since then, the price has rocketed back. The value of silver is now up nearly 13% from its December low.
You can see what I mean in the chart below: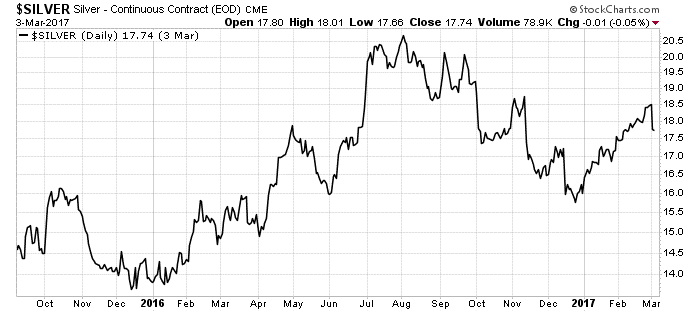 As you can see, silver prices are heading steadily higher. We could see silver hit $20.50 per ounce later this year, matching 2016's high. But it wouldn't surprise me at all for it to run higher than that. I think investors could see silver prices go up at least 10%-plus over the next couple of months.
Silver is a relatively easy commodity to play. Investors interested in the "pure play" can buy old silver dollars, silver bullion coins or shares of an exchange-traded fund such as the Sprott Physical Silver Trust (NYSE Arca: PSLV).
However, another and often more lucrative way to play silver is through small mining companies.
The Best Way to Play Silver
Mining companies that mine and sell different metals often outperform the actual price of the commodity. That's true for silver.
For example, when the silver price rose 50% from January 2016 to August 2016, miners rocketed. Shares of a small mining company called Hecla Mining Company (NYSE: HL) soared from $1.50 to $7.00. That's a whopping 366% in just eight months!
Hecla's shares are back down over 28% from their peak in August 2016.
Other good silver miners, such as Silver Standard Resources Inc. (Nasdaq: SSRI), First Majestic Silver Corp. (NYSE: AG) and streaming company Silver Wheaton Corp. (NYSE: SLW) are all well off their highs.
With the silver price heading higher in early 2017, these companies all look like great options for investors right now. Due to silver's volatility, investors should use trailing stops to protect themselves.
Good investing,
Matt Badiali


Senior Editor, Banyan Hill