In November 2016, crude oil was trading around only $45 a barrel.
The Organization of the Petroleum Exporting Countries (OPEC) announced cuts to oil production. Its goal was to spur higher oil prices by reducing inventory levels.
Now, a year and a half after the production cuts, the organization has accomplished its goal.
The Energy Information Administration (EIA) announced that inventories are back in line with the rolling five-year average.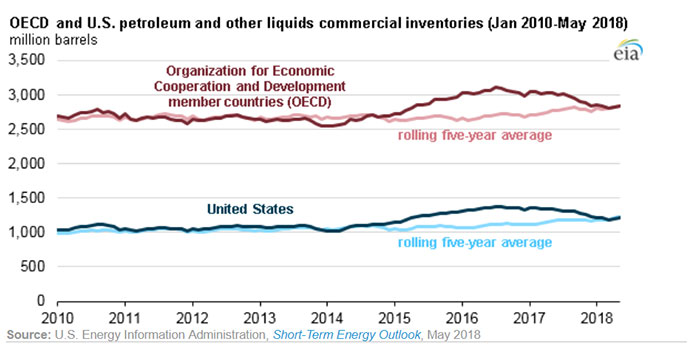 Important Technical Metric
The five-year average is an important metric. Higher inventories than the average insulate the price from sharp moves.
News of hitting this important technical metric comes just in time for OPEC's meeting in June. OPEC, along with Russia, will decide whether it will continue cuts or begin ramping up production.
The decision sits at the crossroads of the three major oil producers: Russia, Saudi Arabia and the United States.
Russia is more than happy with current oil prices above $70 a barrel. President Vladimir Putin stated that he is satisfied with $60-a-barrel oil for the world's third-largest oil producer.
Officials from Saudi Arabia have hinted at wanting to see prices above $80 a barrel. The nation wants higher prices to boost the initial public offering of the national oil producer, Saudi Aramco.
Meanwhile, President Donald Trump fired at OPEC, accusing the group of stoking oil prices higher. If he wants to put his words into action, he can tap into over 600 million barrels of oil held in the Strategic Petroleum Reserve.
The Recent Dip in Oil Prices
Talks of increasing production sent the price of Brent crude oil tumbling 5% in late May before regaining some ground.
But oil's recent pullback is likely just a short-term correction due to national posturing.
Renewed sanctions on Iranian oil and the collapse of Venezuelan production will keep inventories tight while production creeps up to capture higher oil prices.
Investors looking to use the recent dip in oil prices as an entry point may want to consider the SPDR S&P Oil & Gas Exploration & Production ETF (NYSE: XOP). This fund of oil producers closely tracks the price of oil.
Good investing,
Anthony Planas
Internal Analyst, Banyan Hill Publishing