Smart money has been part of Wall Street folklore since the 1800s. These are the investors who buy before stocks rise and sell before declines.
Now, of course, if there is smart money, there must also be dumb money. In financial markets, smart money is the large investors. Dumb money is the individual investor.
As a group, large investors tend to outperform small investors. In part, that's because institutions use investment committees, and many avoid panicking in sell-offs because decisions work slowly through committees.
But large investors tend to get out of the market before steep sell-offs, like they did in early February.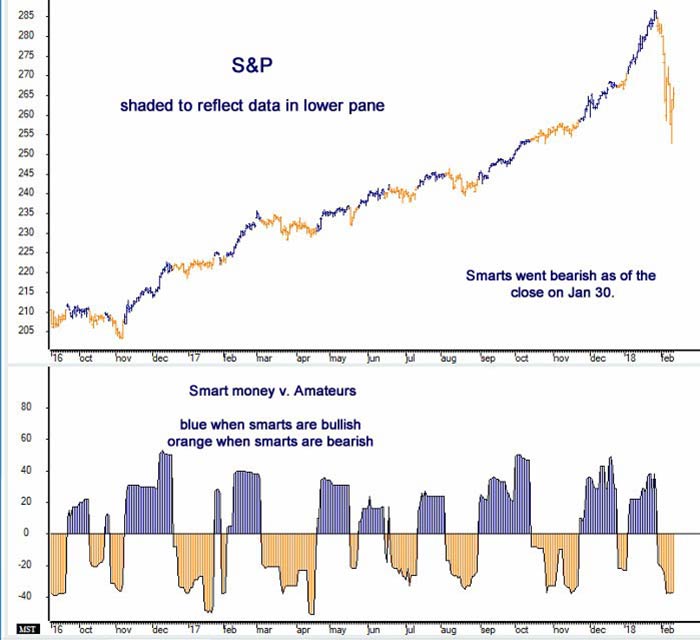 (Source: MathInvestDecisions.com)
The chart above uses an algorithm to track the smart money. You could also use the Commitment of Traders (COT) report. It's published by the Commodity Futures Trading Commission every week.
The COT report details the position of large speculators, which includes hedge funds and commercials. The commercials are the large investors that know the market the best. They trade futures contracts as part of their business operations.
You can track the smart money in stocks with S&P 500 futures. Smart money in that market turned bearish at the end of January.
MathInvestDecisions.com also tracks smart money in individual stocks in addition to futures markets. It found that smart money was buying Virtu Financial Inc. (Nasdaq: VIRT) as the stock market plummeted.
Virtu is a high-frequency trading firm. It makes the most money when stocks are volatile.
The smart money is telling us these firms should prosper in the future. That means the it is telling us to expect higher volatility.
Regards,
Michael Carr, CMT
Editor, Peak Velocity Trader
Editor's Note: As you've seen, MASSIVE gains are being made in the cryptocurrency market. Over the last year, bitcoin surged 1,300% … Ripple skyrocketed 36,000% … and Verge skyrocketed an incredible 1,580,000%! Every $1,000 investment in Verge would have turned into a $15.8 million windfall. And the best part is, what we're witnessing right now is merely the beginning of the most exciting rally in cryptocurrencies. In fact, the timing couldn't be any more perfect. To find out why, click here now.