You've heard "a rising tide lifts all boats."
It was made famous by a speech from President John F. Kennedy in 1963.
Now, when it's referenced, it's used to describe a policy that will benefit the economy in general, not just a few groups.
Many view tax reform as having the same benefit. That it is a rising tide that will lift all boats, at least for the corporations that saw the big tax cuts.
And that has helped send the stock market, in general, rallying for the past two months as investors truly believe "a rising tide lifts all boats."
But one sector of the market is getting left behind for a couple of reasons.
With one of the hottest sectors in recent years failing to keep pace with the broader markets, it gives us a significant buying opportunity — here's why.
The Semiconductor Sector Is Falling Behind the Broad Market
See, the semiconductor sector hasn't rallied as quick as the Dow Jones Industrial Average, the S&P 500 or the tech-oriented Nasdaq 100. It simply hasn't followed the broader markets step for step.
If you look back to the last year and a half, you'll notice the sector has been on a strong rally. But just before the end of the year, it experienced nearly a 10% pullback.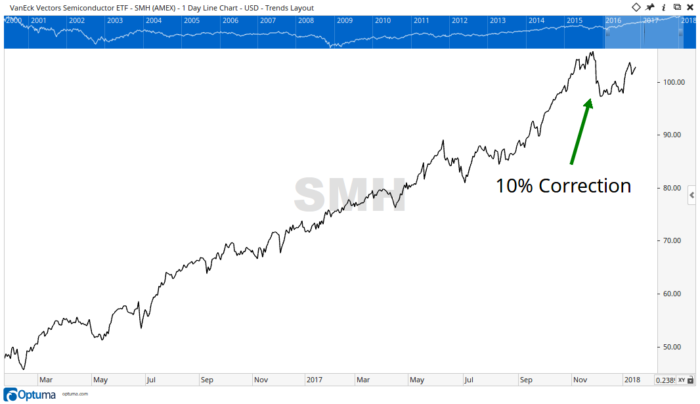 Since then, the semiconductor sector has failed to surge enough to hit a new high, while broad indexes like the Dow are hitting new highs and setting records for the pace of the rally.
There are a few things that contributed to the semiconductor sector being a little sluggish.
For one, the tax reform I mentioned, which acts like "a rising tide that lifts all boats," won't benefit tech companies as much as other industries. That's because they have been working to lower their tax bills and thanks to the tech industry, have been able to do so more than other companies.
Ultimately, not many will see an increase in their bill, so it isn't a negative for the industry.
But the industry also experienced one of the biggest computer chip flaws ever — and it impacted several companies. This has weighed on the sector along with a smaller benefit from tax reform, even though only a few companies were directly impacted by the flaw.
And that's what gives us a buying opportunity.
Since the sector has already went through a bit of a correction since last year, and it hasn't quite hit a new high yet, you can ride it as it climbs to new highs, and benefit when the breakout comes.
Let me explain…
A Massive Growth Sector
Yes, you can buy the stocks that were directly impacted by the chip flaw and simply wait for the rally.
That's because the flaws present a short-term hiccup in an industry that is in the early phases of a massive growth market.
Have you heard of the Internet of Things (IOT)? It's where everything from your washer and dryer to your coffee pot will be smarter than the computer you are using today. That means everything will be connected to Wi-Fi and loaded with chips and sensors.
The IOT market is still in its early stages, as adoption in mass markets is just beginning — and one flawed chip isn't going to disrupt that.
If you are in any of my services, then you likely already have exposure to a few of these semiconductor stocks — and that's great.
If you want broad exposure, you can buy the VanEck Vectors Semiconductor ETF (NYSE: SMH). It tracks 25 of the largest semiconductor stocks to give you a broad benefit from the sector.
The fact this sector is missing out on the tax reform rally means it can play catch-up during 2018, as tech stocks will still reap the benefits of tax reform — either through lower tax rates, or increased spending by other companies.
And the IOT will boost prices for years to come … and now is your chance to jump in.
Regards,
Chad Shoop, CMT
Editor, Automatic Profits Alert