He hated it when I took the shot.
I was playing a game of HORSE with my 9-year-old son. In the game, he has to make the shots that I make, and if he misses he gets a letter. The first one to spell HORSE loses.
He is a natural at basketball, and his strong point is shooting. It's tough for me to beat him.
But I have a go-to strategy that can pull me back into the lead if he starts to win — I call bank shots.
That's where the ball has to hit the backboard, then go in.
If I shoot those beyond the free-throw line, he has a tough time making them. He prefers to swish his shots so he doesn't have to worry about the angle and bounce off a backboard.
We all have a go-to strategy in things we do at life. Something we know that works better than usual during certain situations.
One of my go-to strategies in the stock market is a little-known phenomenon I call prime seasons.
I lean on those when I need an easy win. It's something that works consistently.
And right now, we are on the verge of a major prime season – one that signals huge gains for a particular sector in the coming months.
Let me explain.
A Clear Prime Season for Real Estate
The prime season I'm looking to enter at this very moment is the real estate sector.
Real estate has a clear prime season from now through May, where the sector sees its strongest price momentum of the year.
This is in line with the best-six-months phenomenon I talked about a few weeks ago. But not all sectors follow the trend so strongly.
When I find sectors that have clear and defined prime seasons like the real estate sector, they get added to my list for Automatic Profits Alert readers.
A prime season is simply a seasonal trend that's based on a 10-year seasonal chart.
I use 10 years because I want the data to cover at least a decade. Any shorter than that, and it could just be a short-term anomaly. And longer than that is likely too long a time frame to determine short-term entry points.
Here's what the seasonal trend for the real estate sector looks like over the last decade.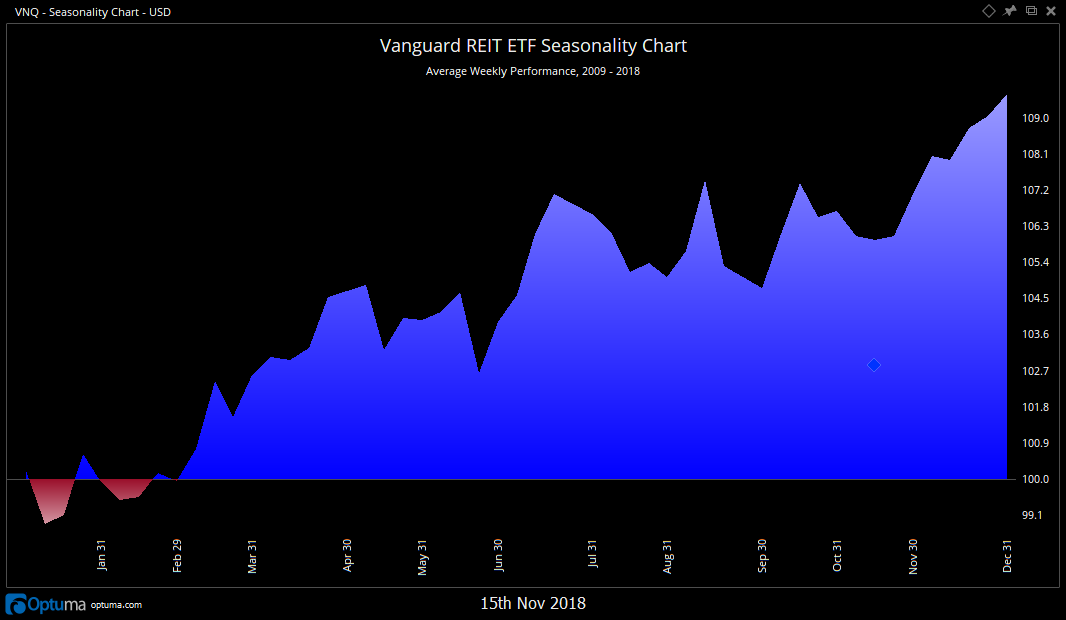 Starting around mid-November through early May, there's a clear uptrend in the seasonal analysis. That's the time period I want to profit from.
During May through November, there's too much volatility in the seasonal pattern, and it basically trends sideways.
Since I use a rolling 12-month period, meaning every year I look at the past 12 months, my seasonal charts are evolving in real time. Each year, they lose the oldest year's data (2008) and add the most recent data (2018).
This gives us the best picture of any seasonal trends that will pull on the market.
Grab This Real Estate Stock
A simple way to profit would be to grab the Real Estate Select Sector SPDR ETF (NYSE: XLRE).
This will help you benefit from the trend. You can expect to see a similar rise over that period to what the sector has historically seen.
But if you want outsized gains and are looking to easily outperform the overall stock market, then individual stocks are where you want to invest.
And I have a system that has handpicked us a stock to benefit from the real estate prime season — Weyerhaeuser Co. (NYSE: WY).
Weyerhaeuser is a unique real estate stock. It doesn't own your typical real estate properties.
It doesn't manage office space or own any malls. It doesn't own houses or condos either.
Instead, Weyerhaeuser is one of the world's largest owners of timberlands.
That's right. It's a real estate investment trust that owns land with trees on it.
It owns or controls 12.4 million acres of timberlands in the U.S. and manages additional acres in Canada on long-term leases.
So, it isn't exposed to the typical weakness we see in the real estate market, with struggling brick-and-mortar businesses hurting income.
But it still is lumped into the same exchange-traded fund with the rest. That's why the best time to own Weyerhaeuser is during the real estate prime season.
Regards,
Chad Shoop, CMT
Editor, Automatic Profits Alert