Want to know the best place to make money in the oil market?
Oil exploration service ETFs such as the VanEck Vectors Oil Services ETF (NYSE: OIH).
Since I last wrote about oil on March 20 ("Oil Is Screaming 'Buy Me!' Again"), OIH is up more than 10%. In my opinion, it still has a long way to move much, much higher.
And why?
Well, it's not just that oil prices are at their highest in nearly four years.
See, in the next few years, the big capital investment money — the billions spent each year by the oil majors so they can keep getting the black stuff out of the Earth's crust — is headed toward offshore exploration and production in a big way.
Offshore Oil Gets Its Big Moment
A recent McKinsey Energy Insights report gives us a trifecta of clues.
Investment in future production fell by half as oil prices cratered to $25 a barrel in 2016.
But global energy demand continues to climb.
And production from older fields is falling.
As McKinsey's analysts note: "Operators in most geographies chose to stop reinvesting into legacy fields as one of the necessary sacrifices to cut costs" through the 2014 to 2016 downturn in prices.
Now we're paying the price for it.
In offshore production areas around the world — the Gulf of Mexico, the North Sea, off the Brazilian coast, you name it — "accelerating depletion rates at legacy fields are set to outpace growth from new fields" put in place before the collapse of oil prices.
So if nothing else is done, and global oil demand continues at the present pace, we might be looking at a supply gap of up to 16 million barrels a day by 2030.
Now you can see why I think the OIH ETF, or nearly any other oil services ETF, is bound to run sharply higher from here in the quarters to come.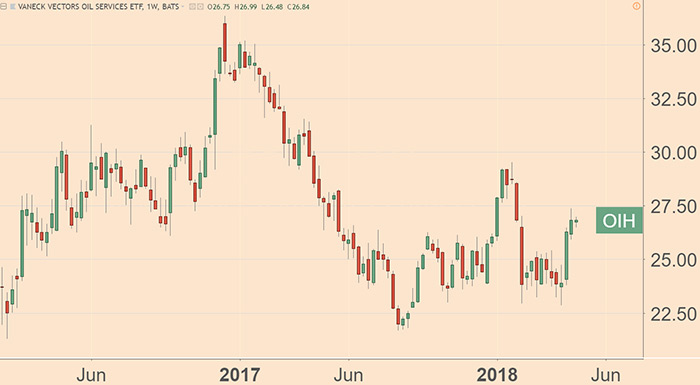 (Source: TradingView.com)
Let's go over the other sources of significant supply…
OPEC? They'd like nothing better than $100-a-barrel oil.
As for shale drillers, as I've written previously, they can't make up the gap over the long term either.
The solution?
More offshore oil investment.
To fill the gap, McKinsey's researchers think we'll need as much as $654 billion in new spending.
As I noted a year ago, the oil majors have already done plenty to bring down per-barrel production costs. Some offshore fields are starting to approach a breakeven cost of $50 a barrel — roughly the same as shale drillers.
In my view, it creates an ideal risk-reward for an extended bet on any company with a lot of exposure to the arena of offshore oil exploration.
McKinsey's analysts agree. They see offshore oil development approaching its moment in the sun again, with a "considerable opportunity" at hand.
Come 2020, I think we'll look back and see that as an understatement.
Kind regards,
Jeff L. Yastine
Editor, Total Wealth Insider