An "unmatched global entertainment platform."
That's what Wall Street has to say about Netflix Inc. (Nasdaq: NFLX) after the company's second-quarter earnings release. The sentiment was quickly followed by additional praise, with analysts noting that "few competitors are positioned to match" the company's position in the market.
That's considerable praise for a company that was once among the most shorted and derided on Wall Street.
It begs the question: What reason could Wall Street have for this change of heart?
Well … there are 5.2 million reasons, to be precise. In its second-quarter earnings report, Netflix said it added 5.2 million subscribers worldwide, blowing past consensus estimates for subscriber adds of about 3.2 million.
While many analysts are attributing Netflix's growth to popular original programming such as Orange Is the New Black, 13 Reasons Why and House of Cards, roughly 4.14 million of those new subscribers were international — which, until recently, was a massive untapped market.
But while there is still room for considerable growth overseas even as Netflix tops 100 million global subscribers, investors are left with a major question: Can growth continue to outpace the company's cash burn?
Apples and Oranges
If you look past all the gushing headlines, you'll notice that Netflix burned through $2.1 billion during the second quarter, as it spent heavily on original content. What's more, the company is on pace to spend about $13 billion over the next three years. That's more than the annual gross domestic product of some countries.
To put the market's euphoria in a more appropriate setting, Netflix burned through more cash in the last quarter than Tesla Inc. (Nasdaq: TSLA) did in the first quarter — about $1.6 billion. And that was making cars, not movies and TV shows.
And the costs are only going to rise from here. According to Bloomberg, Netflix has seen free cash flow turn negative in the past three years … and the burn appears to be accelerating. In fact, the company is contractually obligated for $15.7 billion in the next few years, and roughly half of that amount doesn't appear on Netflix's balance sheet. In fact, many of the same allegations levied against Tesla apply to Netflix's cash-flow situation.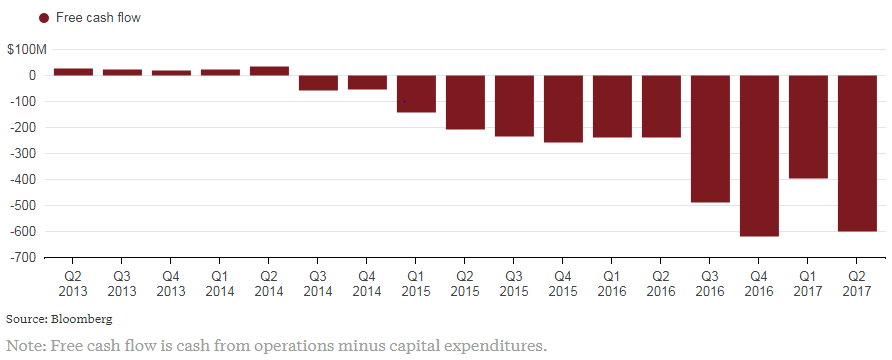 Along those lines, Wall Street appears to be treating Netflix's cash situation more like Amazon.com Inc. (Nasdaq: AMZN) than Tesla. For years, analysts derided Amazon for not showing a profit, as the company chose instead to burn through cash by reinvesting it in growth and new products. Netflix finds itself in a very similar situation, albeit with much better margins. The bottom line is that as long as the results keep pouring in — i.e., impressive subscriber growth — the NFLX machine will keep chugging higher.
And with a still largely untapped international market, there's little reason to doubt Netflix as an investment for now.
Investing in Netflix
When it comes to investing in NFLX, don't chase the rally! In fact, if you're a short-term trader, now may be a good time to fade Netflix's earnings reaction. The shares surged roughly 13% in the wake of the company's quarterly report, hitting an all-time high in the process. If you're already in NFLX stock, that's good for you.
But, as you can see from the chart below, NFLX has outstripped support at its 20- and 50-day moving averages and is on the verge of overbought territory. The situation is very similar to what happened the last time Netflix reported earnings, and the shares suffered a notable correction in the following week.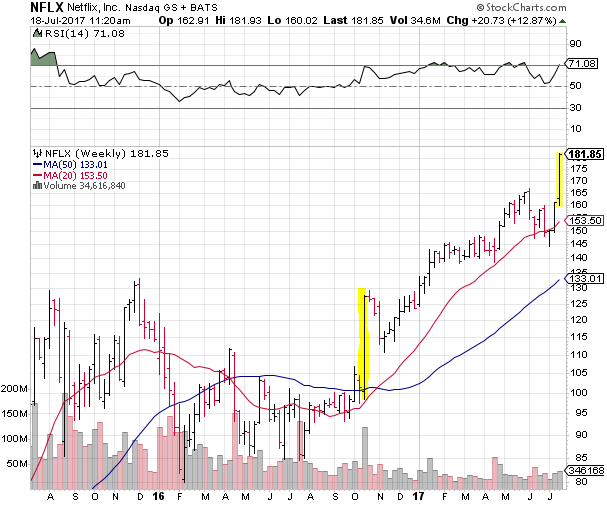 In short, you haven't missed the rally, and there will be better opportunities to add NFLX to your portfolio in the coming weeks. However, if you don't want to wait for NFLX stock, my colleague Paul excels in trading technology stocks and has much more lucrative suggestions than NFLX in his Profits Unlimited service. I highly recommend checking it out.
Until next time, good trading!
Regards,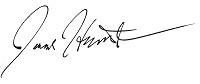 Joseph Hargett
Assistant Managing Editor, Banyan Hill Publishing
Editor's Note: Over a decade ago, experts predicted a major lithium shortage due to the surging demand for batteries used in cellphones and electric cars … and early investors in lithium mining companies made an absolute fortune. Today, experts are warning that the world is running out of one of the most critical metals on the planet. Click here to find out why this resource is quickly disappearing.