Watching television in the '80s was easy.
Most of America has had just three broadcast channels to choose from — four if you were either really lucky or had someone stand next to the TV and hold the antenna.
Where I grew up in rural Kentucky, we were fortunate to get the Big Three: NBC, ABC and CBS. With only three channels to choose from, there was little need for a remote control, especially if you had a younger sibling you could make get up and turn the nob.
Until the late '80s to early '90s, when cable TV became mainstream, the Big Three ruled the American living room uncontested. They controlled everything you watched, from your mother's soap operas to the nightly news to Saturday morning cartoons to late-night television. And they controlled when you watched them.
Commercials were king then, just as they are now, only the revenue they generated was considerably higher than today's standards. After all, they had a captive market of consumers divided only three ways.
With their oligopoly in place, the Big Three grew fat, happy and complacent with their dominance of the TV market. So much so, that when cable TV finally rose to the mainstream, the Big Three still controlled the vast majority of channel offerings.
But while there were more channels, that didn't necessarily mean more content. With only two other networks offering any real competition for American living rooms, the Big Three began recycling content across all the cable TV channels they controlled. As Bruce Springsteen so eloquently put it in the early '90s: "There's 57 channels and nothin' on."
In 2007, 15 years after Springsteen's lamentation of the state of American home entertainment, Netflix Inc. (Nasdaq: NFLX) dropped a bomb that would forever change the landscape of American television: online video streaming.
And here we are, a decade later. The cable TV industry is dying, NBC, ABC and CBS viewership is in decline, and a new Big Three is emerging in the online world of streaming TV.
The New Big Three
A new era of American TV is rising from the ashes of the broadcast model, and a new Big Three has emerged to take the place of NBC, ABC and CBS. Investing in these companies now will get you in on the ground floor of not only the revolution in American living rooms, but global living rooms as well.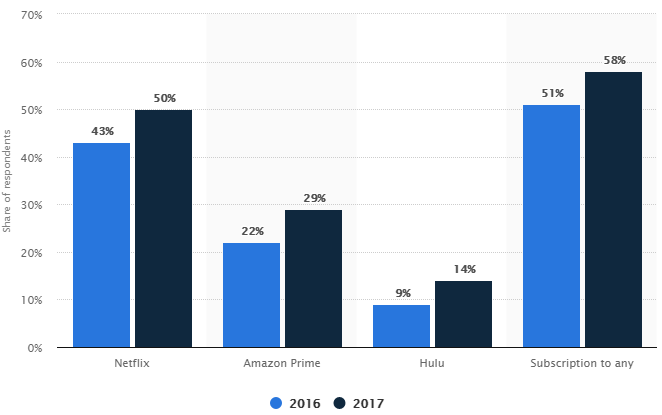 Share of consumers who have a subscription to an on-demand video service in the United States in 2016 and 2017.
(Source: Statista)
Netflix — The Godfather of Online Streaming
No one should be surprised by the fact that Netflix is at the top of the current online streaming market. After adding 5.3 million subscribers last quarter, Netflix now has roughly 109.3 million subscribers around the globe.
Netflix currently dominates online streaming stateside, and is present in about 75% of all streaming households. Because of its market dominance, analysts are concerned about market saturation. After all, Netflix only added 850,000 U.S. subscribers last quarter. However, it's important to point out that only one-third of American households currently stream online TV and movie content.
So, while Netflix may have saturated the current available market, that available market is set to grow by leaps and bounds as the rest of America wakes up to the online TV revolution.
What's more, Netflix is already following in the early footsteps of broadcast TV pioneers. Founded on providing access to content produced elsewhere — Walt Disney comes to mind — Netflix is poised to spend $8 billion next year alone just to create its own original content. As with all things, the initial cash outlay is more than a bit off-putting. But once Netflix has a solid catalog of original content, spending is sure to fall more in line with the former kings of cable TV.
So, while NFLX stock is a bit on the pricey side right now (partly due to the stock market's run-up on easy money), the shares still have plenty of growth ahead of them.
Amazon — The Jack of All Trades
With the amount of cash Amazon.com Inc. (Nasdaq: AMZN) has to throw around, it could easily topple Netflix and become the No. 1 streaming service. But that's not Amazon's business model. Amazon is a retailer, first and foremost — a task the company does extraordinarily well.
While Netflix gets the credit for being the first major online streaming company, Amazon actually launched its streaming service as Amazon Unbox in September 2006, about four months ahead of Netflix's online launch. With its hands in several pots at once, Amazon didn't really get serious about its streaming service until a few years ago.
After several name changes and service iterations, Amazon Instant Video was christened in February 2011 and bundled with Amazon Prime, giving the service an instant subscribership in the millions. How many millions remains unclear to this day, however, as Amazon has never released subscription numbers for either Prime or Instant Video, which was renamed again in September 2015 to simply Amazon Video.
Current estimates place U.S. Prime subscriber numbers at about 79 million, but there is still no way to tell whether or not every Prime member utilizes Amazon Video. Still, the estimated subscriber numbers are more than enough to put Amazon in the No. 2 spot behind Netflix as part of the new Big Three.
Clearly, Amazon isn't content to let things rest at that. The company has launched Amazon Studios and is spending $4.5 billion this year on original content. Amazon is clearly getting serious about its Amazon Video service, and should come out swinging next year.
(Sources: The companies, JPMorgan)
That said, AMZN stock is not a pure play on online streaming. The company brings with it considerable baggage and heavy spending across the board — not the least of which is Amazon's move into the grocery market with its acquisition of Whole Foods Market.
For these, and a multitude of other concerns, I'm considerably less bullish on AMZN stock than I am on NFLX. In fact, I believe that Amazon Video will play more of a spoiler for Netflix than a real benefit for Amazon for the time being.
Hulu — The Broadcast Industry's Frankenstein
It's not fair to say that the original Big Three of broadcast television have no presence in online streaming. Hulu is, in fact, the old model trying to keep pace with the new.
The company is owned by a collaboration of "last generation" broadcasters and content creators, including Walt Disney (ABC), 21st Century Fox (Fox Entertainment), Comcast (NBC Universal), Time Warner (Turner Broadcasting System) and Japan-based Nippon TV.
But there are key differences that give Hulu a considerable advantage over both Netflix and Amazon. For one, Hulu gets first-run TV shows the week they air — which should come as a no-brainer since the companies producing the content are Hulu partners. That also means Hulu has considerably less overhead costs for content acquisition.
That said, Hulu has also moved into the realm of original content, spending $2.5 billion this year … with considerable success. In fact, Hulu upstaged both Netflix and Amazon this year by sweeping the awards at the Emmys.
That said, subscriber numbers are impossible to pin down on Hulu. The company stopped releasing subscriber figures last year when it said it had 12 million U.S. subscribers in 2016, compared to Netflix's 47 million.
While Netflix now reports more than 52 million domestic subscribers, Hulu will only state that it has 47 million unique viewers, which it claims means more to advertisers. This metric is also convenient for diverting comparisons with Netflix's subscriber base.
In case you missed it in the last paragraph, Hulu also has commercials in addition to its monthly subscription fees. It seems that some habits die hard where the former Big Three are concerned.
Finally, it is all but impossible to directly invest in Hulu. The collaboration is not publicly traded, and even investing in all the companies involved would be difficult, costly, and subject to more pitfalls and distractions than trying to make an online streaming trade out of Amazon.
A Final Note
For investing purposes, Netflix remains the best direct trade on the future of online streaming, with Amazon a close second.
These two giants are also international. No longer are just American living rooms in play, but Indian, British, Australian, Japanese and a host of other venues around the globe. For Hulu, it's just America and Japan.
This is the real key difference in the new "TV" networks, and it's why Netflix and Amazon are far from hitting the top of their current growth curve.
Until next time, good trading!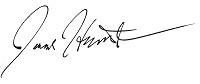 Joseph Hargett
Assistant Managing Editor, Banyan Hill Publishing
Editor's Note: According to Profits Unlimited Editor Paul , many of today's big health care giants — companies such as Pfizer and Merck — are going to be destroyed. That's because of a revolutionary medical breakthrough that's going to completely wipe out the old version of health care … and create incredible wealth for early investors. To find out what the best stocks to own today are, click here.