The Rock of Gibraltar, a limestone promontory at the southernmost tip of the Iberian Peninsula, guards the 9-mile strait that separates Europe from Africa. It also symbolizes the first stumbling block in the United Kingdom's chosen exit from membership in the European Union.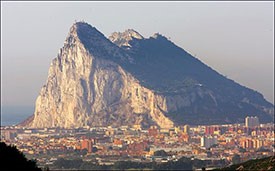 Gibraltar, also known as the Rock, is a self-governing British overseas territory bordering on Spain, and it presents unique legal and diplomatic problems. Its history complicates the pending EU-U.K. Brexit negotiation of this unprecedented international political and economic divorce.
Long-standing Spanish claims of sovereignty over Gibraltar, opposed by its 33,000 citizens and by the U.K., may alienate Spain as a hoped-for U.K. ally in the two-year Brexit negotiations just now starting.
As one who has written about "where to stash your cash" offshore for 20 years, I have emphasized Gibraltar's important role as one of only two tax havens in the EU. (Luxembourg is the other.) Today, Gibraltar is the world's fifth-largest banking center, and with a gross domestic product (GDP) of $1.9 billion, it has one of the highest GDP per capita on Earth.
Indeed, the pending fate of Gibraltar could determine the success or failure of Brexit.
A Tiny Offshore Giant
Since 1973, when the U.K. joined the European Common Market, the predecessor to the EU, Gibraltar has managed to skillfully carve out a unique legal status.
In 2008, it won a significant victory when the EU's highest court affirmed the right of Gibraltar to set its own tax policies independent of the U.K., allowing it to continue as a tax haven. Gibraltar levies a low 10% corporate tax, with no taxes on capital gains, inheritance or gifts, and no wealth or value-added taxes. The financial sector, tourism (over 11 million visitors annually), gambling revenues, shipping services fees and duties on consumer goods generate revenue.
Gibraltar is also a leading international financial, investment and insurance center, home to British and international banks. Major U.K. bookmakers and online gaming operators relocated here to benefit from a well-regulated jurisdiction with low taxes. Over 100,000 offshore companies are registered here, either tax-exempt or nonresident.
Operating freely within the EU, Gibraltar knows from whence its prosperity comes.
The Start of a Bad Brexit
In Gibraltar's own separate 2016 Brexit referendum, Gibraltarians voted by 95.9% to remain in the EU, apparently hoping for a better Brexit deal that will preserve the territory's profitable status. U.K. Prime Minister Theresa May has been criticized for not defending Gibraltar strongly enough.
To add to worries on the Rock, EU President Donald Tusk's draft guidelines on Brexit talks give Spain the final say on whether any EU-U.K. deal would apply to Gibraltar. Tusk's anti-U.K. move resurrects a Spanish claim on the Rock that dates to 1713 when Gibraltar, a strategic military and naval location, was ceded to Great Britain by Spain in the Treaty of Utrecht that ended the 14-year War of the Spanish Succession.
While Spanish leaders see Brexit as their best chance in three centuries to reclaim sovereignty, members of May's ruling Conservative Party won't tolerate any concessions to Spain. In a 2002 referendum, a 98.9% majority of British voters overwhelmingly opposed any sharing of Gibraltar's sovereignty with Spain.
Indeed, the Rock has been British longer than the United States has been American.
Any EU-U.K. decision involving the sovereignty of Gibraltar would further complicate a series of tangled anti-Brexit priorities being pushed by the 27 remaining EU member states, including immigration, fishing rights, shipping, and freedom of movement for labor and capital.
In ancient times, many believed that those so foolish as to sail beyond the Strait of Gibraltar were doomed to fall off the western edge of a supposedly flat earth.
Now navigating an even direr Gibraltar strait may doom the United Kingdom to failure in negotiating a favorable exit from the European Union.
Yours for liberty,


Bob Bauman, JD
Chairman, Freedom Alliance
P.S. The threat of Brexit in the U.K. has many citizens scrambling to acquire a second passport so that they can maintain their easy access to the EU. With my recently updated Passport Book, you can quickly learn the critical details you need to know when considering another country for a potential second passport. To get your copy of the newly revised 12th edition of my book, click here.