There is good news for natural resource investors out there. The Baltic Dry Index (BDI), which is a benchmark of shipping rates around the world, hit a four-year high.
The BDI tracks shipping of grains, oil seeds, coal and iron ore. These are fundamental components of the global economy. So, when the cost to ship those goods goes up, it means the global economy is improving.
And that's great news for natural resources.
The Global Economy
You can see what I mean in the chart below: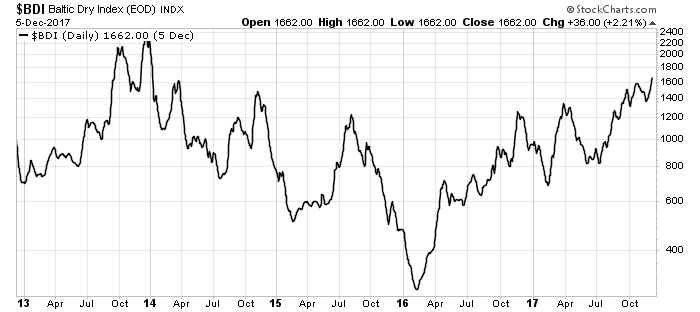 The BDI hit its highest point since 2014 on a strong move up since July 2017.
The BDI tracks the recent moves in commodities as well. Base metals like copper and zinc are moving higher too. When the price of the commodities moves higher, as well as the cost to move them, we know demand is rising.
That's great news.
The entire commodity space hit bottom in early 2016. The recovery is less than two years old today. There is plenty of room for it to move higher.
The rapid climb of the BDI isn't a guarantee for the whole sector. However, it is a strong signal that the recovery has momentum.
That means we could see a great 2018 for natural resources.
Plenty of Options for Natural Resource Investors
If you are looking to put money to work in this trend, you have plenty of options. You could invest in the Claymore/Delta Global Shipping ETF (NYSE: SEA). However, this small ($131 million) fund has not tracked BDI this year.
Instead, we want to invest in the broader bull market in commodities in general. If you'd like exposure to a basket of commodities, here are a few good general funds:
These should do well as the overall natural resource sector continues to climb into 2018.
Good investing,

Matt Badiali
Editor, Real Wealth Strategist