I attended grade school in the rolling hills of rural Kentucky near the Ohio River. Recently, one of my earliest memories from those formative years resurfaced, prodded by renewed U.S. tensions with an increasingly militant Russia and a heated escalation of rhetoric with North Korea. Both countries are nuclear capable.
As with all early childhood memories, the details are kind of fuzzy, but I remember sirens, and teachers calmly ordering us to get under our desks, face away from the windows, and "duck and cover." I don't remember being told much about the reasons why we were hiding under our desks, just that we needed to protect ourselves.
Some of our more veteran readers will remember the practice of "duck and cover" well. It was a method the government promoted during the Cold War for protecting one's self against a nuclear attack, based on the belief that standing upright and uncovered during an attack was likely to cause serious injury or death. The practice died out in most of the country by the late '70s, but old habits and customs die hard in rural America, so I caught the back end of this Cold War-era practice in grade school.
I didn't think much of "duck and cover" at the time. After all, it was very similar to our monthly tornado drills, with the exception that we got to play under our desks for about five minutes instead of filing down into the cinderblock-lined basement hallways. In hindsight, however, the practice seems less about actual safety and more about providing reassuring sentiment for a fearful populace.
Sentiment is something investors can understand well, and many have turned to duck-and-cover-style habits amid the current geopolitical situation. But, as with those old grade-school drills, such practices could end up doing more harm than good for your portfolio. Instead of hunkering down in your investment fallout shelter, an active investment in a leading defense sector company could allow you to go on the offense this time around.
And there is one defense sector firm that is already embroiled in the thick of things.
You Dropped a Bomb on Me, Baby
With a market capitalization of more than $45 billion, Raytheon Co. (NYSE: RTN) is among the largest U.S. defense contractors. The company has its hand in nearly every aspect of U.S. military defense, with divisions specializing in integrated defense systems; intelligence, information and services; missile systems; and space and airborne systems.
Raytheon is also the fourth-largest contractor in terms of U.S. defense spending, with the company accounting for roughly $13 billion in obligated dollars from the Department of Defense (DoD) in 2015.
The company garnered headlines back in early April after President Donald Trump authorized a Syrian air strike with 59 Tomahawk cruise missiles in retaliation for the country's use of chemical weapons. Originally developed by General Dynamics in the 1970s, the weapon has long been a favorite surgical strike and retaliation tool for the DoD.
Raytheon now manufactures the Tomahawk cruise missile for a little more than $1 million apiece, with analysts placing the cost at replacing those used in Syria at about $60 million total. So far, Trump appears to be holding to his promise not to involve ground troops in Middle Eastern conflicts. A continuation of this policy could mean similar air strikes going forward, and that means more revenue for Raytheon as the DoD leans on its weapon of choice.
Somebody's Watching Me
As noted above, Raytheon has a firm revenue source for traditional U.S. defense operations, which is reassuring to investors looking for solid portfolio returns. But the company does more than just make bombs. In fact, Raytheon's fastest-growing source of income is sales to utilities, banks and retailers … and, of course, your local utility company isn't buying Tomahawk cruise missiles.
In defense, you innovate and update or you get left behind, and the new battlefront is online. Raytheon is tackling the rise of cyberwarfare with its cybersecurity division, Forcepoint. Forcepoint specializes in stealth applications, security software and computer hardware used to combat hackers, both foreign and domestic.
With the rise of cybercrimes and security breaches dumping millions of personal records onto the Internet, retailers and banks are lining up for the best protection money can buy. And who better to provide that protection than the company the DoD relies heavily upon for its own security?
In fact, Forcepoint saw sales jump 8% in the final quarter of 2016, with full-year growth of more than 72%. What's more, with Russian hacking taking center stage in the 2016 election, and the rising threat of similar actions from other foreign entities, investors should expect continued growth from Forcepoint going forward.
Investing in Raytheon
With a rock-solid revenue source from the U.S. government and growing cybersecurity sales from the private sector, it's no wonder that RTN stock has added more than 40% in the past two years. To put that in perspective, the PowerShares Aerospace & Defense ETF (NYSE Arca: PPA) is up about 20% during that period, and the S&P 500 Index lags both with a gain of only 15%.
Looking more closely at RTN's technicals, we see that the shares have enjoyed firm support at their 20-week moving average, with the stock's 50-week trend line offering up a safety net on any corrections in the broader market. Currently, RTN is pushing its all-time high in the $155 to $160 region following a recent test of support at its 20-week moving average. Despite the rebound, RTN is not quite in overbought territory yet — per RTN's 14-week Relative Strength Index — but investors looking to buy in now will want to keep a close eye on this reading.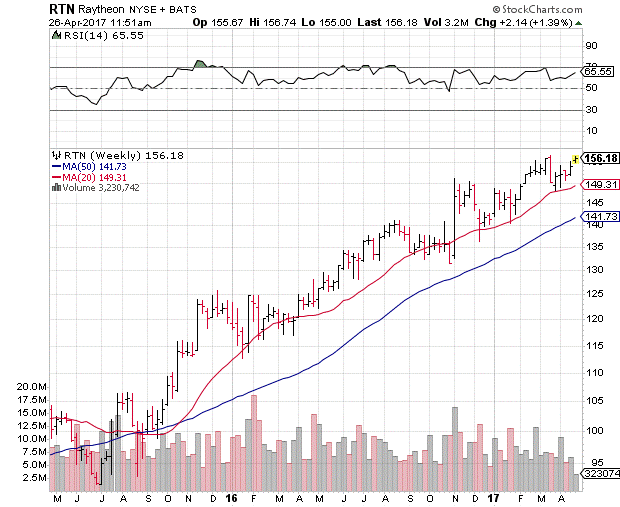 Investors will also want to note that Raytheon will release its first-quarter earnings report on April 27. Earnings reports can create considerable volatility for stocks, and with RTN trading near its all-time high, investors might want to wait until after the report to add the shares to their portfolio.
Until next time, good trading!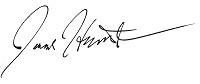 Joseph Hargett
Assistant Managing Editor, Banyan Hill Publishing
P.S. While the Trump administration implements its plans to boost defense spending and upgrade America's military capabilities, a covert alliance has already begun an all-out offensive on the U.S. economy. This is a new Cold War that will be completely unlike anything you or I experienced growing up. Click here to learn the shocking truth about the scheme to bring America to financial ruin … and what you can do to protect yourself and your family.