I still remember the last time I saw him.
Sailing off into the sunset on a $13 million-dollar yacht. Blonde hair blowing in the summer breeze off the coast of Miami.
On the trading floor, we went by code names based on our initials. I was "AXK." He was "HES."
HES was my mentor, and a close friend to this day. He made so much money on the trade floor, he quit trading and traveled the world.
I figured if it was good enough for him, it was good enough for me.
Since I retired from the trading floor, I've traveled to over 60 countries. Every other day, I'm hopping a flight to a new location.
I love the lifestyle trading has given me.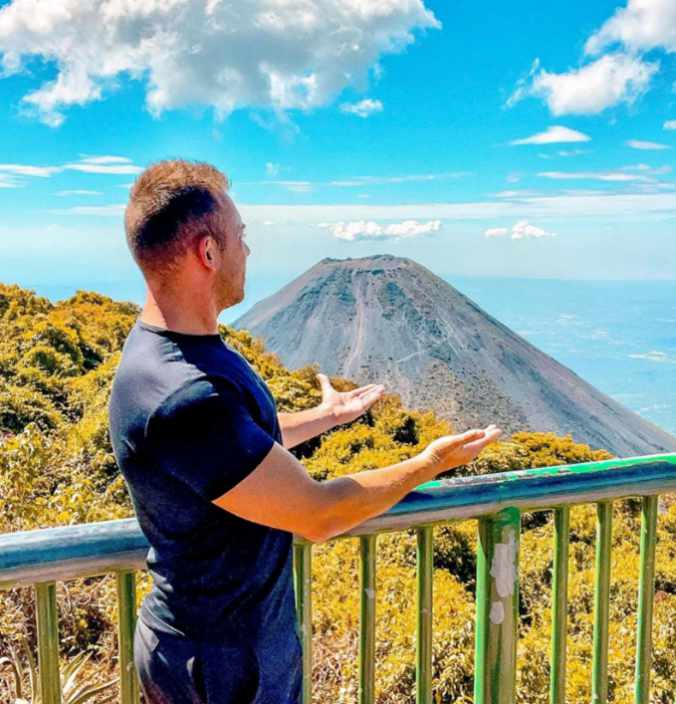 But what I like even more, is helping others.
Call me cheesy … I am a bit. But there's a reason why I spend an hour with my trading community every day.
It's not because I need the money. I don't.
I do it, because every day, I see people write in saying they made $500 … $1,000 … even $5,000 in the hour they spent with me.
One of my traders, Michael, recently said he made $50,000 in a week.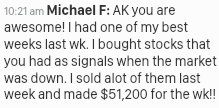 Make no mistake…
Making $5 million on the trade floor felt pretty great.
Being on TV countless times felt pretty great.
And traveling to 60+ countries felt pretty great (still does).
But nothing feels better than seeing dozens of people write in every day telling me they made money.
That's something money can't buy. And I chase that high every day.
That's why, it doesn't matter where in the world I am or what's going on that day. For an hour a day, I'm theirs.
And now, I'm yours too.
As the newest member of Kings Corner, you're going to begin receiving FREE trading ideas from me everysingleweek.
Every Monday around 2pm ET, you'll get my Weekly Watchlist. This will include the top 3-5 stocks you should trade every week.
These stocks can move big. Like the time we saw Amazon jump 10% … Affirm shoot up 19% … and AMC climb 26% … each in a week.
But I'm also going to give you a FREE options trade, and this is where I really shine.
These trades can soar 100% or more.
In fact, we recently had four do it in a row.
On a recent week, I shared an options trade on Uber. In two days, it was up 116%.
The next week, I recommended an options trade on Ford. By Friday, it was up 345%.
Then a week later, we saw a trade on CPNG go up 150% in three days.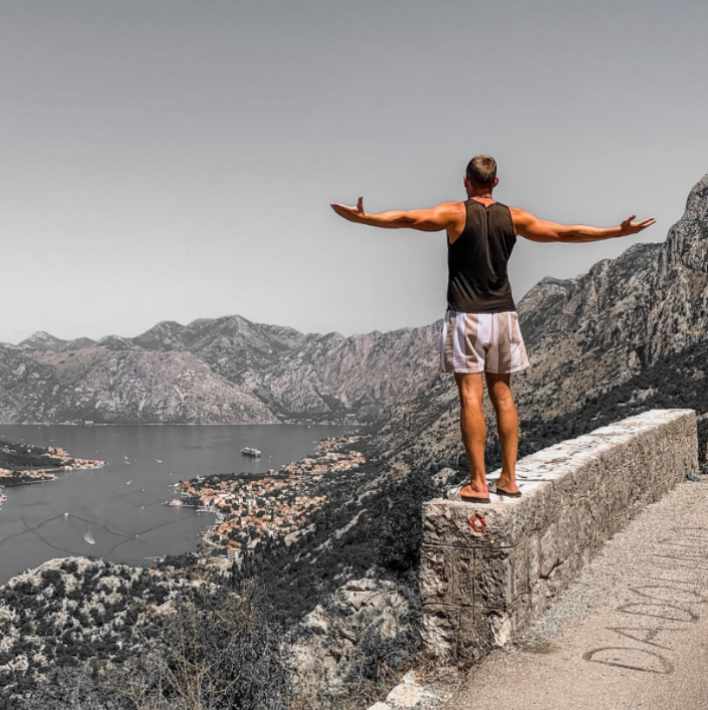 The fourth week? 152% on KHC (Kraft Heinz, mother ketchup herself) in three days.
116% … 345% … 150% … 152%.
Most "gurus" can't deliver that in services they make you pay thousands of dollars for.
I do it for free … every week.
So here's what I hope…
I hope you make SO MUCH MONEY on these free trades, you come to me begging to jump into my live trade room.
In there, I recommend 5-10 trades per day. And each trade can go up 10%, 50%, even 100% or more … in an hour or less.
I call them "1 hour profits." And I recently recorded a video explaining exactly how I'm able to dish them out, practically every day.
You can click here to watch it now. There's nothing stopping you from joining today.
But at the very least, I expect you to open your Kings Corner emails and take advantage of these free trades I give you.
Trading has given me a lifestyle I could have only dreamt about when I was younger.
I'm wishing the same for you.
Your new life starts today!
To better trading…
Andrew Keene
Editor, Trade Kings