Now, I would never attempt to profit from others' nightmares.
It's not right morally, and it's not something I would ever do. I'm not price gouging water for people in need. I'm not scamming funds claiming to help provide aid.
Instead, all I'm looking at today is how the market reacts to major hurricanes. Then, how those initial reactions tend to leave behind an easy profit opportunity for the everyday investor.
We all see the initial reactions in the stock market.
Insurance stocks tumble, stocks that operate cruise lines take a hit, and, in Hurricane Irma's case, spot market prices for orange juice are spiking.
It's all part of the knee-jerk reactions from investors on news a major hurricane is bearing down on the United States.
I spent several months in the past looking into this exact scenario.
And of all the movements from a hurricane that take place in the stock market, most of them are knee-jerk and too quick for the average investor to take advantage of.
But one inevitable reaction is worth trading on, and there's still time to get in.
A Big and Devastating Storm
During the time I spent researching hurricanes, I learned several things that occur almost every time major hurricanes take aim at the U.S.
I talked to people in the industry, and I realized that these reactions occur so quickly because hedge funds employ meteorologists to consult with them and identify these threats at the earliest possible time.
So once a tropical storm is named, like Tropical Storm Harvey, it begins to attract the attention of Wall Street investors.
If it is expected to be a Category 3 hurricane or above and make landfall in the States, the action starts to happen.
It starts with the insurers selling off, and ones located mainly in Florida took it the hardest as Hurricane Irma plotted its path. Stocks like HCI Group Inc. (NYSE: HCI), Universal Insurance Holdings Inc. (NYSE: UVE) and Heritage Insurance Holdings Inc. (NYSE: HRTG) were down double digits in one day as worries were rising.
After that initial reaction, as headlines were made about how big and devastating the storm could be, we started to see other stocks begin to move.
Like Lowe's Companies Inc. (NYSE: LOW) and The Home Depot Inc. (NYSE: HD) rising as the towns will need to repair and rebuild, not to mention all the lumber purchased to board up windows.
(Side note: Watch for these stocks at their earnings announcement, too. There is a possible "bonus trade" to make by profiting from a bump in their earnings. So buying just ahead of earnings and selling the day of earnings is an easy way to grab a quick gain.)
Or a stock like Generac Holdings Inc. (NYSE: GNRC), which makes generators that help power homes once they lose power, sees a surge in demand, and thus a surge in stock price.
While all of this is currently behind us for the current set of storms, there is still one trade to put on your radar — and it's back to the insurance industry.
A Strong Rebound
That's because investors take this knee-jerk reaction to the insurance industry as a worst-case scenario.
Right now, investors are expecting Harvey to have done the most damage by a single storm in dollar terms.
And insurance stocks, the companies who will foot the bill, have gotten whacked since Irma made its approach last week.
Almost every time, this ends up being an overreaction.
But once the hurricane makes landfall, it pays to buy (not sell) the insurance industry.
Today I'm focusing on Allstate Corp. (NYSE: ALL) because that is a nationwide insurer that has experienced the same phenomenon of overreaction before.
The local Florida insurers could indeed take a larger hit to their books that may have a lasting impact. I just don't have enough data on them to confidently know what should happen next. With Allstate, I do.
See, in 2012, once Sandy was named a tropical storm, selling pressure hit Allstate's stock. Then, once it made landfall, we saw even more selling pressure. But then the selling stopped. The stock bottomed, and it continued more than 15% higher over the next three months.
Take a look: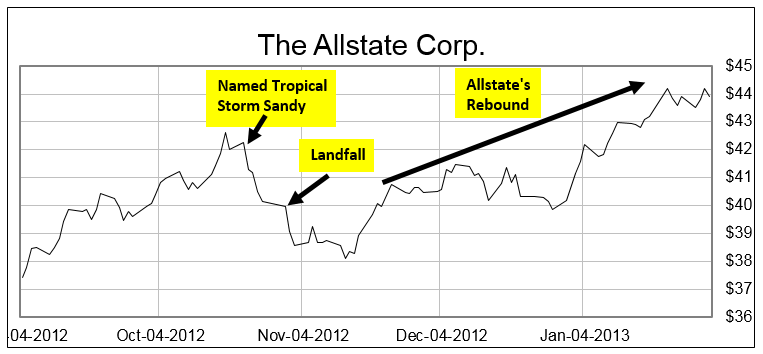 Allstate is following a similar path this time, rising before hurricane season, then falling on the news of major named storms and their impending landfalls.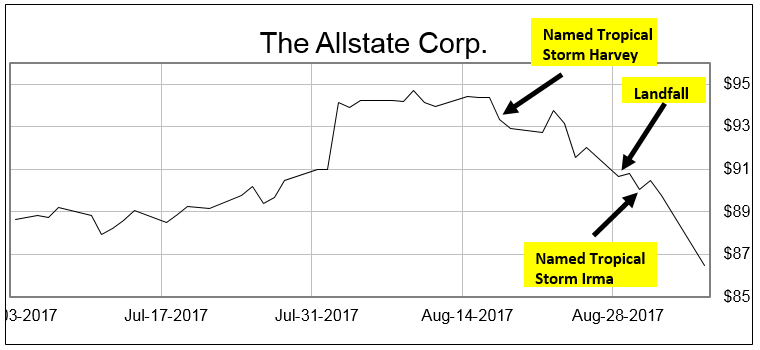 We are seeing a similar setup this time, and it will make for a strong rebound as we head into the end of the year.
So simply buying Allstate after a major hurricane makes landfall is an easy approach to grab profits. If you want a more aggressive approach, you can grab the Allstate January 2018 $85 call option at the market price.
Just wait 'til after Irma is done making landfall in the U.S. before placing the trade.
Once the dust settles, Allstate's share price will rebound, handing you a solid gain.
The one caveat I'll add to this is that if we have another major hurricane threaten the U.S., a Category 3 or higher, then you can expect more weakness in Allstate's stock.
But aside from another major storm, and there isn't one heading toward the U.S. on the radars, the stock is set to rebound from the knee-jerk reaction it has experienced so far.
Regards,


Chad Shoop, CMT
Editor, Automatic Profits Alert