I have been bullish on the emerging markets sector since the stock market correction began early this year.
The usually more volatile sector was poised to rally out of that correction with greater momentum than the U.S. stock market. It was also the start of a seasonal trend for the sector.
But with worries over a trade war, that rally was subdued. And now it's time to bet on the extended decline for the group of stocks.
A key level I have been watching on the chart of the iShares MSCI Emerging Markets ETF (NYSE: EEM) has just been breached, and it signals more selling is to come. Take a look: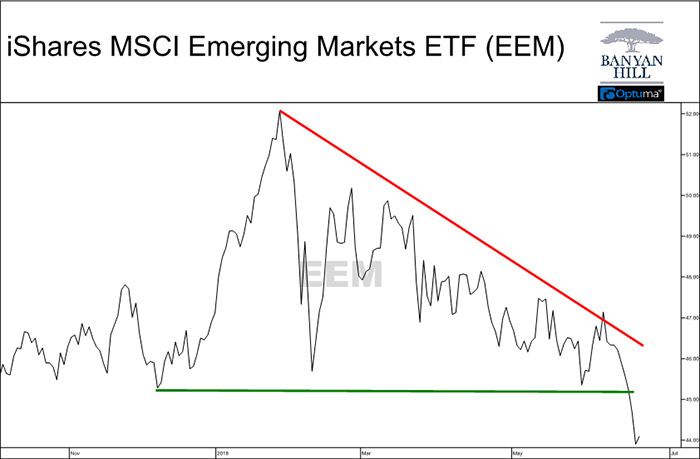 The breakout below the green support line on the chart is a bad sign.
This level was key throughout the correction and held as support on many occasions. For the price to break below that level like it did means emerging markets are set to fall even further.
Since the formation in the chart above is a descending triangle pattern, it gives us a specific price target on a breakout.
The formation had a range of $7 from the first high and low since the pattern began, so the expected move is $7 as well.
With the breakout to the downside, we can look for the emerging markets exchange-traded fund (ETF) to touch $38 in the coming weeks.
The best way to profit from this coming decline is with options, specifically a put option.
You can pick up the EEM August 17, 2018 $43.50 put option for around $1.15 right now. That means you could double your money if the ETF falls to just $41.
If it reaches my price target of $38, you stand to quadruple your returns.
Regards,
Chad Shoop, CMT
Editor, Automatic Profits Alert