Today we are going to look at a topic I refer to routinely — it's the best measure for the economy we have in real time.
I'll give you the details, but the key takeaway is that our economy continues to run below expectations.
President Donald Trump has been in office for more than a year now, and data for the first quarter in 2018 is being measured in real time to see how it is doing — and I don't think Trump would be impressed with his economy.
I'm getting my real-time measure of the economy from a model that ends up being very accurate and is compiled as the data is released, and then revised as more data comes out. It gets updated along the way.
The model is the Atlanta Federal Reserve's GDPNow model. I have been watching it for years, and it has been painting the picture since 2015 — when it changes, that will signal America's next boom time.
The one thing I want to point out is that our economy fails to live up to expectations over and over again. Take a look: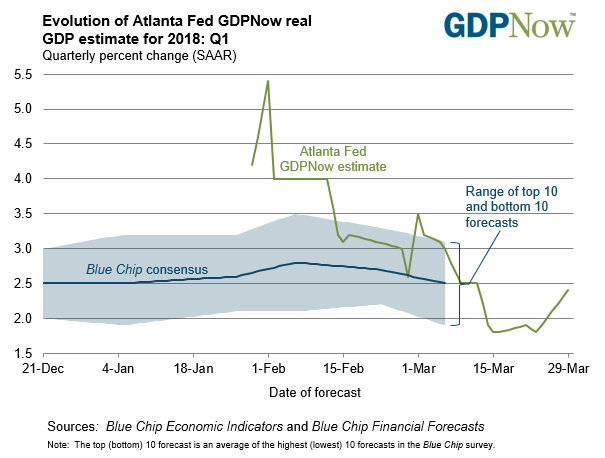 As you can see by the GDPNow estimate line on the chart, expectations started around a 5% growth rate for the first quarter — that would have been phenomenal.
But a blue-chip consensus of economists never gave that much of a chance, with the highest range in the shaded blue area at 3.5%. Still, that would have been great.
But as the data has been released, the model continues to update and be below the original expectations. Right now, the GDPNow forecast expects just a 2.4% increase in the first quarter.
Trump is looking for a 3% annual growth rate for the year, so clearly this wasn't what Trump was expecting.
Don't get me wrong, Trump has done things to try to stimulate the economy with tax reform and protective policies, and we still have easy-money policies at the Fed.
As long as the economy remains stagnant, though, we can expect him to continue to work on finding America's growth engine.
The reality is it just takes some time for all the changes being made to hit the economy.
We'll circle back to this at the end of the year and see if the data is holding up to the initial forecast. When it does, that's when we know our economy is booming.
Regards,
Chad Shoop, CMT
Editor, Automatic Profits Alert