In an earnings season that was meant to be dominated by tax cuts and skyrocketing profits, what we've seen instead is fear over trade wars and tariffs.
Despite the fact that over 70% of companies have beaten expectations for revenues and profits, the market remains down about 8% below its all-time high that was set just a few months ago.
Earnings Season Struggles
Aside from slight worries about possible inflation, tariffs are the only thing to blame for the market's mysterious behavior. As you can see from the chart below, tariffs have dominated the conversation during this quarter's earnings calls.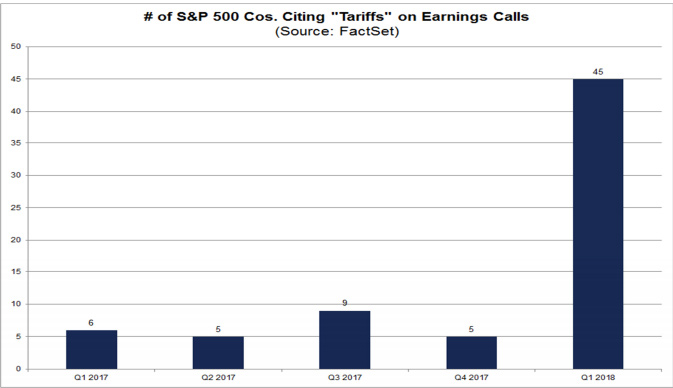 Analysts are worried about the impact that tariffs will have on companies' future earnings, which creates uncertainty. And whenever there's uncertainty in the market, you can be sure that prices will fall.
That's because whenever investors buy large chunks of stock for clients or large funds, they want to be as sure as possible that the investment will pay off, typically as soon as possible. For now, they will likely wait for the dust to settle before jumping back in.
One sector in particular that tariffs would affect the most is the industrials sector. That's because a large chunk of the proposed tariffs are on steel and aluminum.
These metals are used in the core business of the biggest companies in the industrials sector, and making them more expensive would raise their cost of doing business substantially.
Although nothing has been set in stone yet, investors have been extremely cautious with industrial stocks for over three months now, during which that sector has underperformed the overall market by a noticeable margin.
A play to benefit from a further fall in the industrials sector would be buying the ProShares UltraShort Industrials ETF (NYSE: SIJ), an exchange-traded fund that goes up when industrial stocks go down.
This would be a trade meant to last until an ultimatum has been reached between President Donald Trump and our steel and aluminum trading partners, particularly Canada, Mexico, Australia and the European Union.
Regards,
Ian Dyer
Internal Analyst, Banyan Hill Publishing