Oil prices are heading lower. On May 4, they hit a low of $45.50. That's the lowest price in five months.
However, there could be relief coming. The next OPEC meeting is on May 25. This will be the drop-dead date for oil. If the OPEC ministers agree to extend production cuts, then expect oil prices to retest their $50-plus highs this summer.
We can expect lots of talk leading up to the OPEC meeting. That should be enough to keep the oil price wobbling in the mid-$40s per barrel. However, the critical moment will be the announcement after the meeting. If OPEC doesn't reach a deal — a real possibility — then oil prices will plummet.
Talk Is Cheap
OPEC leader Saudi Arabia spent most of 2016 struggling to get the organization to support cutting production. The production cuts finally put in place in November 2016 pushed oil prices up to their highest levels since 2015.
However, the cuts end in June 2017. That could be trouble. Despite the confidence of OPEC ministers, they haven't extended the production cuts yet.
According to Bloomberg News, Saudi Arabia and Russia both indicated that they could extend the cuts into 2018. Saudi Energy Minister Khalid Al-Falih is "confident production cuts led by the OPEC countries will be extended into the second half of the year."
However, talk is cheap, and the idea of cutting oil production in OPEC countries is about as popular as austerity measures were in Greece. After nearly a decade of high oil prices, these economies are fat. The last two years of lower oil prices have helped trim some of the fat, but OPEC countries still want as much cash as they can get.
Right now the price of oil isn't lending a lot of confidence to the idea that OPEC will renew the production cuts. West Texas Intermediate, a grade of crude oil used as a benchmark in oil pricing, is at its lowest price in 2017. It's as low as it was back in November 2016, and it could go lower.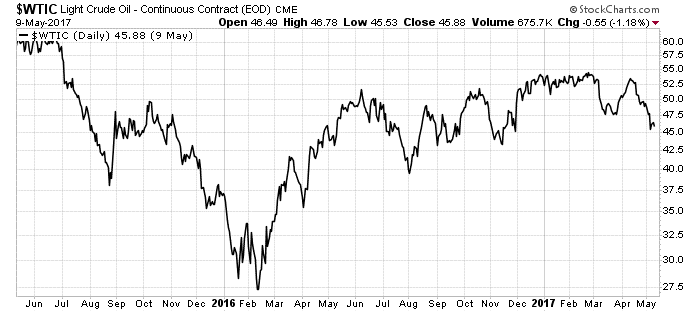 As you would expect, this trend is hurting oil explorers and producers. The oil sector performed terribly in 2017. Shares of the SPDR S&P Oil & Gas Exploration & Production ETF (NYSE Arca: XOP) have fallen 23% since its recent high in December 2016.
We're only holding one oil company in Real Wealth Strategist, our new natural resource investment advisory. It's a high-quality company that won't take too much of a hit if prices fall … but will soar on higher prices. That's our insurance on rising oil prices.
On the other hand, I'm prepared to load up on more blue-chip oil producers if I get the opportunity. That's a prudent strategy when faced with this kind of volatility. It puts us in a position to lose a little on bad news … but make a big profit on good news.
Good investing,


Matt Badiali
Editor, Real Wealth Strategist