I have a test for you. Pay close attention.
Your answer will tell you what you should invest in next.
Imagine for a second that you're in a new town. You're on the main street looking for a restaurant. All the familiar chain restaurants have moderate crowds.
But you're in the mood to try something new. The first new restaurant you come to is full. There is a mass of people around the entrance. The host tells you with a smile that the wait will be 45 minutes to an hour.
You glance around and see another new restaurant. The only people by the entrance are staff, waiting for a guest to give them something to do. It looks nice, but you have to wonder why no one else chose this convenient option.
Choose your own adventure:
The busy restaurant with the long wait.
The quiet restaurant with immediate service.
Select your answer and remember it. This choice will be important later on.
From Market Sell-Off to Massive Rally
December saw a stock market sell-off. The broad market fell by 20%. But some sectors were hit harder than others.
Information technology fell by 22% since its peak. Energy posted a 28% fall, making it the hardest hit. Safer plays like utilities only fell by 4%.
Volatile stocks are fun when they are going up, but the route down can test the nerve of even the most seasoned investors.
The rally is going into its third month. Rate hikes have largely been put on hold. And trade talks are moving forward.
Now there is a new sector looking especially crowded.
The Most Crowded Trade on Wall Street
An escalating trade war and interest rate hikes marred 2018.
These risks threatened global growth. Companies with debt-laden balance sheets had the most risk.
That meant miners, energy producers and the industrials sector had a rough year. But that's changing now.
Industrials are leading the rally as investors race in to make up for lost time. This sector includes the companies that build infrastructure and machinery for the modern world.
Top names include Boeing, 3M, General Electric and CSX Corp.
But there are signs that industrials may be getting top-heavy.
RBC Capital Markets crowned it "the most crowded trade" of 2019. Shares rallied 26% since the late December crash.
Depending on your slant, that can be a good or a bad thing.
With hedge funds piling into industrials, it's confirmation that global growth is coming in sight. Low interest rates and favorable trade talks are hinting at a strong year ahead.
But the crowd can turn into a stampede if unexpected bad news comes. That means industrials will get hit harder than most other sectors.
Seating Available at This Forgotten Sector
For investors who aren't comfortable with crowded trades, the consumer staples sector offers more room to get in.
This sector of must-own household names including Coca-Cola, Walmart and Colgate has seen little in the way of a rebound.
The chart below shows the returns of the S&P 500 (orange), industrials (purple) and consumer staples (green) since the start of December.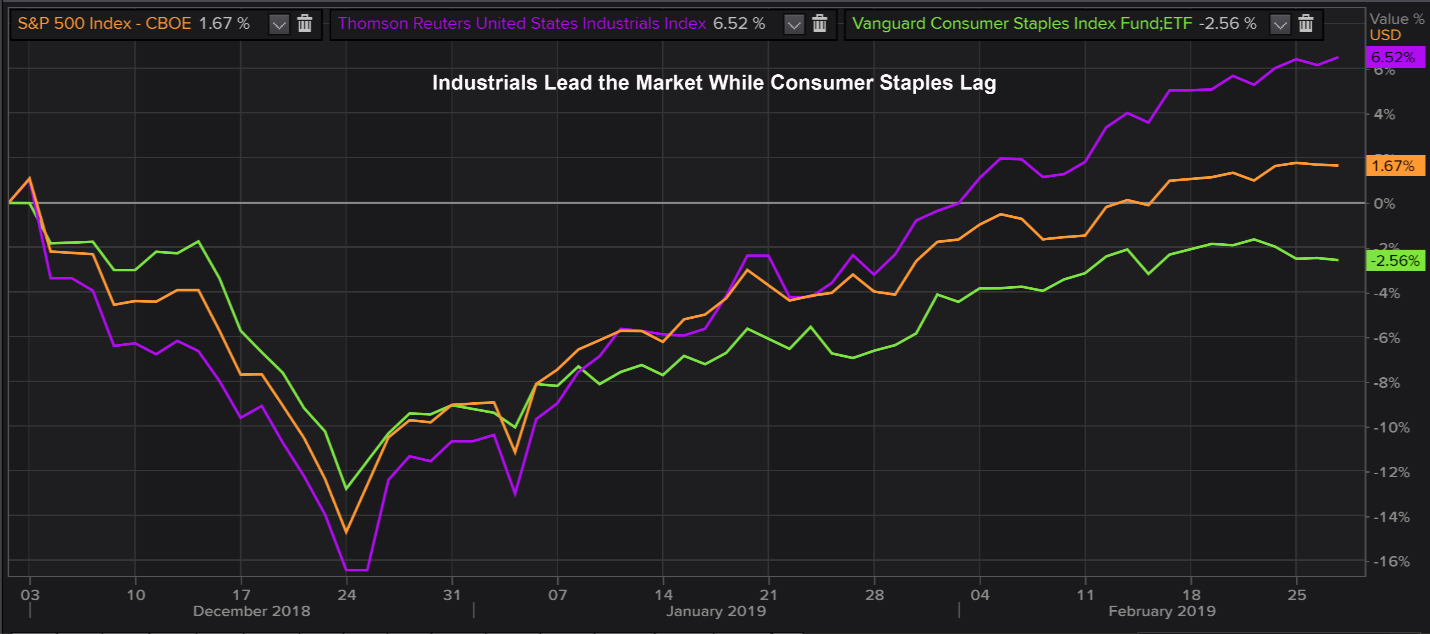 Data from Refinitiv EIKON.
Stocks have yet to fully recover from the December crash. Consumer staples lag the S&P 500 Index rebound by 4.2%. While it has lagged other sectors, it also means less short-term volatility.
Consumer staples are a victim of their own stability. This sector typically performs well during times of volatility. But optimism on Wall Street left this sector behind for promises of bigger gains elsewhere.
Let's return to the test from earlier. If you selected the first choice, the crowded restaurant, you'll want to get your name on the list for the Vanguard Industrials ETF (NYSE: VIS).
If you prefer the ambience of a quiet room, grab a table at the Vanguard Consumer Staples ETF (NYSE: VDC).
Good investing,
Anthony Planas
Internal Analyst, Banyan Hill Publishing