Average is difficult to define. Most of us believe we are above average at everyday tasks like driving. But math says many of us are wrong since only half of us can truly be better than average.
That same math tells us something important about investors: Half of investors must attain results that are below average.
The problem we face is knowing what average is. Well, the index designed to capture what the average investment portfolio earns is the Value Line Geometric Index (VLG).
This index is equal-weighted, which avoids the problems of weighting we see in other indexes. For example, the S&P 500 assigns more weight to stocks that perform the best, and doesn't show what an average investor is really doing.
As the chart below shows, VLG, the average investor index, is just now breaking above its 1998 highs.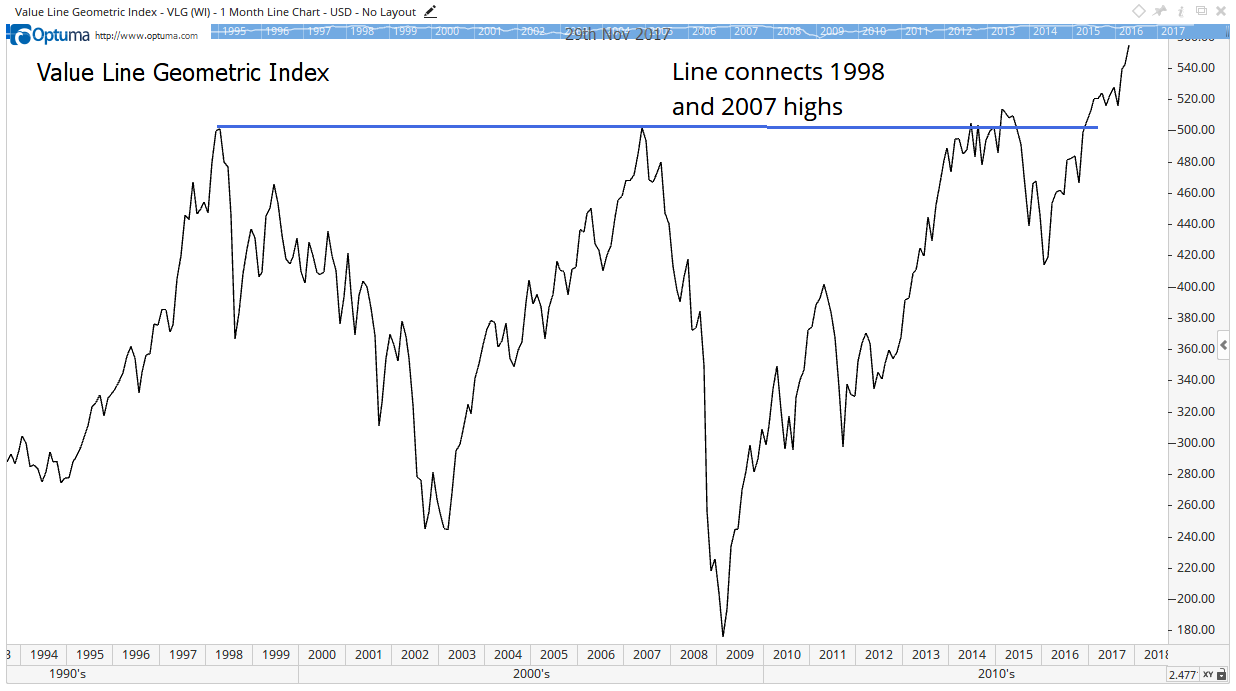 This means many investors have missed out on the gains since 2009.
That might seem hard to believe, but it's true. Many investors sell stocks in bear markets. Then they are concerned about another bear market. This means they are late to reinvest.
But, slowly, the bull market proves it's real. That often fuels a large rally in stocks as latecomers rush in.
That rally comes when experts are telling us the bull market is about to end. Eventually, it does. But before it does, the rally can deliver large gains.
That's where we are now. VLG shows we are just breaking out to new all-time highs, almost 20 years after the average first set a record.
Now that investors are feeling wealthy again, like they did in the 1990s, the market is almost set to crash. But, first, it is set to move sharply higher. Don't miss out on these gains because you're worried about a bear market.
Regards,

Michael Carr, CMT
Editor, Peak Velocity Trader
Editor's Note: Michael's Precision Profits research service has one goal: helping its subscribers make huge gains of 100% or more each month, whether they're a seasoned trader or completely new to investing.
In fact, by clicking on the video below, you can hear from some of the Precision Profits subscribers about the incredible gains they've made:
To find out more about Michael's proven investment system, click here.