I felt like I had won the lottery. At long last, I'd closed on my first house — a newly renovated single-family home with a spacious yard for the dog.
This was back in July 2016, and I'd spent several frustrating months struggling to find an affordable home before then. On the rare occasions I found a place within my budget, I was outbid.
Finally, after narrowly edging out four other buyers, I was a homeowner.
Keep in mind, this was before prices soared beyond levels last seen during the 2005 housing bubble.
Now the median existing-home price is at an all-time high of $276,900. Prices have seen year-over-year gains for 76 consecutive months.
According to Zillow.com's estimate, my house has already gone up in value nearly 50% since I bought it.
If I had waited until now to look for a house, it's likely that I would've given up my search and decided to rent instead.
According to the latest data, more and more Americans are starting to think the same thing. And that's a significant warning sign for the economy…
Housing Market Analysis
June's existing-home sales fell 2.2% compared to June 2017. That's according to the latest data from the National Association of Realtors. It was the third straight month where sales dropped.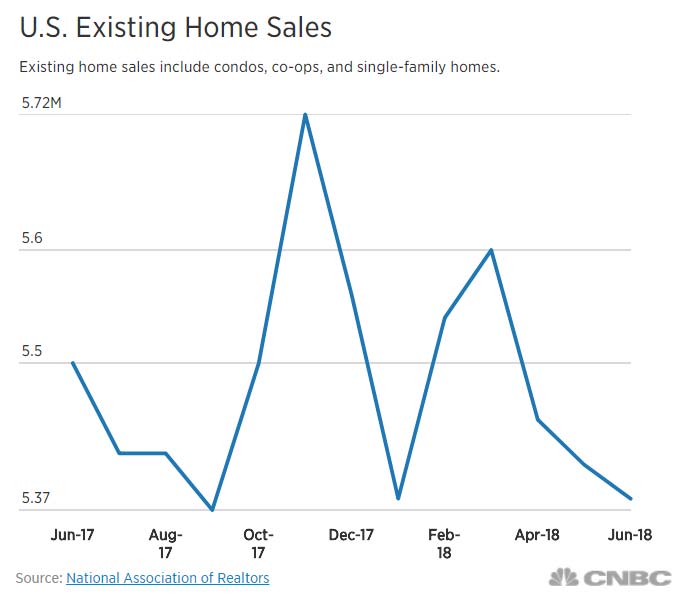 The situation is even worse for the most affordable houses. Sales for homes priced $250,000 or less plunged 7.1% in June compared to a year ago.
And it's not simply a matter of there being not enough homes listed on the market. Housing inventory for existing homes actually went up 4.3% in June. That marks the first yearly inventory increase in three years.
What we're seeing is potential homebuyers being priced out of the market. After all, price increases are much larger than the wage growth Americans have seen over the past few years.
On top of that, the Federal Reserve has raised interest rates six times since the end of 2016. That has boosted mortgage rates to levels not seen since 2011. Higher rates make it even more challenging to afford a house.
So what does this mean for you?
A Turning Point for the Economy
Declining home sales show that more potential homebuyers are renting instead. So, as prices continue to climb, we could be looking at the next housing market peak.
Just listen to Robert Shiller, a Nobel Prize-winning economist who predicted the housing bubble. He sees slowing sales as a warning sign. "This could be the very beginning of a turning point," said Shiller last week.
It's troubling news for the housing market and, by extension, the U.S. economy since housing has always been an economic bellwether.
But it's not worrisome for investors who know what to expect.
That's why it's essential for you to continue relying on Banyan Hill's experts for the latest financial data and analysis. It's the only way to prepare for the next economic downturn.
Regards,
Jay Goldberg
Assistant Managing Editor, Banyan Hill Publishing