"Holy cow, Matt, you've got to see this!"
My colleague Brian Christopher yelled at me from his office.
"Have you checked lumber lately?"
Brian and I often do that. We've worked together for years.
Anytime something's happening in a market, we dig in and talk about it. I find it incredibly useful to draw on his experience in accounting and finance.
Thursday's discussion focused on lumber and tariffs. It was so valuable, I thought I'd share it with you.
The takeaway was, tariffs do funny things to markets … such as lumber prices rising so high, you pay more for a new home.
But where there are market moves, there are opportunities. And I can show you how to position yourself to profit.
Tariffs Disrupted Lumber Prices in 2018
Among the first things that the Trump administration did was to slap taxes on imported Canadian lumber.
These taxes, called tariffs, raised the price of the wood used for building here in the states. The reason behind the tax, the administration argued, was Canadians could harvest wood from government land.
That meant Canadian companies had lower costs. They could then turn around and sell it cheaper than U.S.-grown trees.
The tax evened the playing field by making up the difference.
That simple tax had a huge effect on the timber market here in North America. It immediately increased the price of lumber, as companies scrambled to stockpile wood.
That sent the price up … and up … and up.
By the peak in May 2018, the price of lumber jumped 150% in just two years.
Then, it crashed. By late October, the price fell by half. It was the lowest lumber price in two years.
Get Ready — The Lumber and Homebuilding Sectors Are Making a Comeback
My colleague Michael Carr wrote about lumber back at the start of 2019:
In part, the price collapse reflects oversupply that developed because of tariffs. This is one of the reasons the decline in lumber shows 2019 could be difficult for the economy.
Tariffs and the threat of tariffs distort behavior. Both suppliers and consumers react irrationally and unpredictably. Wild price swings are one result of the irrational behavior.
Unpredictable prices drive other patterns of behavior. Some buyers wait for more stable times. This dampens economic output.
Other buyers rush their orders. If too many buyers do this, it results in inflation.
Rushed orders also reduce economic output when inventory levels increase too much. That leads to wasted capital.
The problem is no one knows which behavior will dominate in advance.
His outlook on distorted behavior proved 100% correct. Look at this chart of lumber prices now: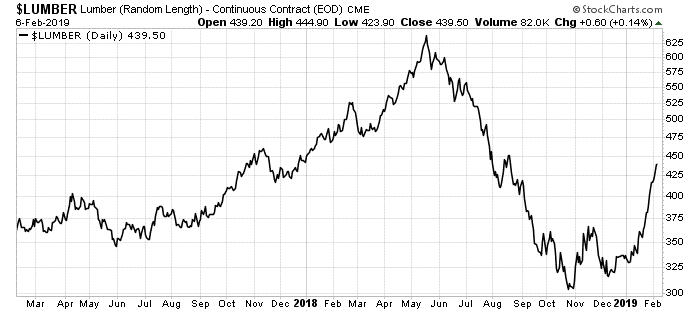 As you can see, lumber prices rocketed higher in 2019.
They are up 43% in just three months. And the trend should continue because the tariffs are wreaking havoc on the Canadian timber industry.
Mills are closing. Supply is falling … which means the price should continue to rise.
It wouldn't surprise me at all to see lumber prices break the 2018 high. That's going to have an impact here at home.
Most importantly, it means the cost of a new home is going up. That's not a bad thing yet, because it should drive homebuilder stocks up too.
For the last three years, homebuilder stocks and lumber prices moved together. As one went up, the other followed.
Lumber price increases just get passed on to customers through higher home prices. But while lumber prices soared, homebuilders are up only modestly.
If this trend continues, we should see double-digit gains in short order.
The best way to play the trend is through a simple fund like the iShares U.S. Home Construction ETF (ITB).
At around $33 a share, the fund is down about 19% from its high of $41.27 back in February 2018. But the homebuilder market is positioned to rally. Now is a good time to expose your portfolio to this sector.
Good investing,
Matt Badiali
Editor, Real Wealth Strategist
P.S. Rarely do we as investors have the opportunity to get in on the ground floor of a massive trend. But that's the opportunity that we have right now.
The industry with the most potential in the coming decade isn't where you think it is.