I was one of those people this morning.
You know, the kind who takes the easy way out and gives a gift card for a birthday present. But in my defense, it's not like I didn't remember said birthday — what kind of horrible uncle would I be if I had forgotten my nephew's birthday?
My problem, like many of you have, is that there just aren't enough hours in the day to accomplish everything on my to-do list. It may not sound like it, but researching a present for an 11-year-old boy is quite the task when you are raising two girls and are out of the "boy loop." Shopkins, Barbies and Miraculous Ladybug toys just aren't going to cut it.
Luckily for me, my nephew likes receiving money and gift cards nearly as much as getting other gifts, so I don't feel completely horrible for seeking out the services of Amazon.com. Just a couple clicks at 7:30 a.m. this morning, and the birthday "present" was on its way. That's quite a service.
Sure, Amazon is one of the largest retailers in the world (and the largest online retailer), but it's the company's booming services divisions that have continued to place the company among the most coveted by investors. In fact, for Amazon investors, you buy in for the strong retail presence, but you stay for the long-term growth potential in services.
And here's why…
Get Your Head in the Clouds
Outside of retail revenue, Amazon.com Inc.'s (Nasdaq: AMZN) cloud computing division, Amazon Web Services (AWS), is probably the company's biggest moneymaker. At the beginning of last year, CEO Jeff Bezos proclaimed that AWS would hit $10 billion in revenue. Amazon eclipsed that number easily, with 2016 full-year revenue for AWS topping $12.2 billion, with $3.1 billion in operating income profit.
To put that in perspective, Microsoft, the top dog in cloud services, said in its second-quarter earnings report that its "commercial cloud annualized revenue run rate exceeds $14 billion." And that figure includes the popular Office software subscriptions, making Amazon's cloud competition even more impressive.
What's more, Amazon is even stealing cloud customers from the likes of Oracle. In its quarterly conference call, Amazon noted that more than 18,000 databases migrated to AWS from other vendors, including Oracle, using specialized tools to make the move easier. With Oracle and Microsoft losing ground in the clouds, 2017 looks considerably bright for AWS revenue growth.
It's Not TV, It's Amazon Prime
Unlike AWS, which is targeted at corporations and businesses, Amazon Prime targets consumers. The service leverages Amazon's massive retail presence to get you in the door with free two-day shipping, and then offers everything from Prime TV, streaming music, e-books, audiobooks and even restaurant delivery (in certain ZIP codes).
Despite the diversity in Prime services, it's Prime TV that is stealing the show … literally. Bezos has said he wants Amazon to be the next HBO, and he's well on his way. In fact, with seven Oscar nominations for Manchester by the Sea and The Salesman, Amazon has achieved something even leading online streamer Netflix has failed to accomplish.
And when it comes to the bottom line, Amazon's strategy is starting to pay off. According to Jackdaw Research's analysis of Amazon's recent SEC filing, the company sports about 70 million subscribers and annual video-streaming revenue of approximately $2.5 billion. While that pales in comparison to Netflix's streaming revenue, for a company that offers video streaming as an add-on, it's quite impressive — and still growing.
The Future's So Bright…
Amazon often gains media attention for what my grandfather would call "harebrained ideas." For example, package delivery by drones flying from an airborne warehouse. But the company has some rather excellent ideas that, should Amazon figure out that last tweak to make them viable, would propel the company to even greater heights.
Take grocery shopping, for instance. Online grocery sales are forecast to top $100 billion by 2025, and Amazon is already looking for ways to make the experience more convenient.
Tired of Ticketmaster? How about buying concert tickets from Amazon?
Or even paying online using the payment details stored in your Amazon account? While the online payments industry is dominated by PayPal right now, the market is expected to grow to $632 billion in 2020, and Amazon is already angling for a piece of that pie.
While you may have seen several headlines noting that Amazon's recent quarterly earnings report was a disappointment, there is a reason why expenses are rising and impacting the bottom line. Long-time investors are familiar with this situation: Amazon is in investment mode right now. And with so many potential blockbuster ideas, it's only a matter of time before the company starts to see a return on this renewed spending.
Investing in Amazon Stock
Heading into its February 3 quarterly report, Amazon stock was flirting with all-time-high territory. The shares plunged on the bad news, offering an excellent buying opportunity for those who were ready. Since the post-report drop, Amazon shares have rallied back more than 5% — setting new all-time highs in the process. Today, Amazon is trading north of $850 and is looking to firm up support in the region despite another round of profit-taking.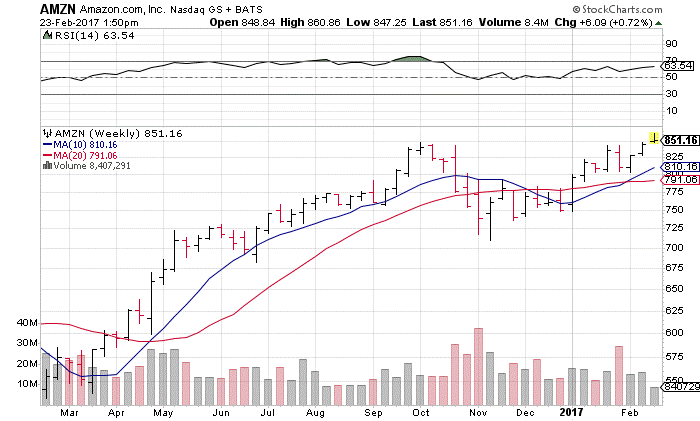 Amazon stock was clearly a buy near $800 to $810, and any pullbacks to $850 could also provide an opportunity to acquire Amazon shares if the risk matches your investment plans. If you're concerned about buying in now, you could always hedge your long AMZN stock position by purchasing "insurance" in the form of a near-the-money April $850 put, or you could set your own price target for purchasing the shares by selling an April $825 put in hopes of picking up the shares at a discount amid a pullback.
Finally, for more on how to essentially name your price for the stocks you want to own (and get paid for it), check out my colleague Chad Shoop's Pure Income service.
Until next time, good trading!
Joseph Hargett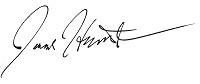 Assistant Managing Editor, Banyan Hill