I think we all dream of it … walking through a yard sale and discovering a rare Picasso that the owner was sure was a fake.
Or maybe it's a personal letter from George Washington tucked away in the attic of a house you just purchased.
Personally, I was always hoping to uncover buried pirate treasure — though highly unlikely, considering that I grew up in Kentucky rather than near the coast.
Earlier this year, one man uncovered a rare penny buried in a parsnip field in Nottinghamshire that is expected to sell for £15,000 (approximately $18,280) at auction on March 15. The penny was minted during the time of Viking king Sihtric Caoch roughly 1,100 years ago. And despite being buried in the ground for more than a millennium, the coin is in extremely fine condition.
But you don't need to head to the rolling hills of the U.K. with a metal detector to make a nice profit in rare and ancient coins. There's actually a much easier way to grow your wealth…
To properly introduce you to the world of investing in rare and ancient coins, I've gone in search of an expert.
Geoff Anandappa is an investment portfolio manager for Stanley Gibbons Ltd., the world's leading brand name in collectibles, based in England but with offices in London, the Channel Islands, Hong Kong and Singapore. The Stanley Gibbons Group includes the world's oldest rare-stamp merchant (established in 1856) and philatelist to British royalty since 1914; and the U.K.'s largest coin dealer, A. H. Baldwin & Sons (established 1872).
Jocelynn: I think most Americans are aware of the impressive size of the American coin market, particularly with regular stories hitting the newswires about rare American coins selling for over a million dollars. But are there other markets that investors should be paying attention to because of their growth?
Geoff: Rare and early coins from increasingly prosperous areas around the world are rising in demand from collectors in search of a piece of history. Coins from Eastern Europe, such as Russia, Poland and Hungary, have seen some prices increase tenfold in the past decade. Coins from India and the Middle East, long ignored by Western collectors, are now of intense interest. Even traditional collecting areas — such as ancient Greek and Roman, as well as Western European and British coins — have increased over fivefold in the past decade.
Jocelynn: Where is this price growth coming from?
Geoff: Some of this demand has been stimulated by the rise in the price of gold and silver — but the bullion value of rare coins is far surpassed by their numismatic value. Far more importantly, collectors have recognized the rarity of coins in exceptional condition, and so the premium for such coins has escalated accordingly.
Jocelynn: If many of these areas are seeing such growth, should investors be worried about these rare coins being overvalued?
Geoff: Despite the strong demand and price rises, these rare world coins are still very much undervalued when compared to their U.S. counterparts. The size and prosperity of the American collector base, coupled with the relatively small number of rare coins, means that U.S. rarities go for 10 or 20 times the price of equivalent coins from England or ancient Greece and Rome — and perhaps 100 times the price of their Asian or Middle Eastern equivalents.
This discrepancy offers a unique opportunity for U.S. investors to diversify their collection with rare world coins that are seeing substantial and steady growth in value.
Jocelynn: When it comes to American coins, I know that the grade is very important in understanding the quality of the coin, and hence, its value. Does the same grading system apply to significantly older world coins?
Geoff: Most coins sold in North America are graded on a scale from 1 to 70 by independent grading services such as Professional Coin Grading Service (PCGS) or Numismatic Guaranty Corporation (NGC). This may be possible for more modern, mass-produced coins. However, grading is much more difficult and becomes more subjective with older coins — especially hammered coins where the quality of the strike makes each coin unique, even before any wear due to circulation is taken into consideration.
In England and Europe, there are essentially four grades of condition: Fine, Very Fine, Extremely Fine and Uncirculated ("Fleur de Coin" if exceptional). The terms "Good" and "About" can qualify these grades. Thus, Good Very Fine (GVF) is better than Very Fine (VF), which is, in turn, better than About Very Fine (AVF).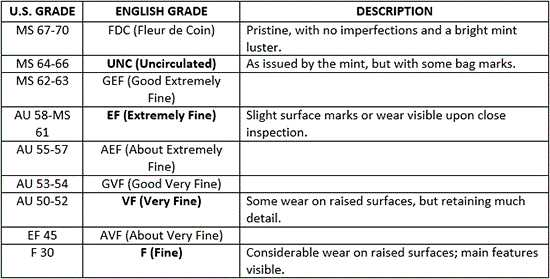 Jocelynn: Do you have any advice for someone who wants to start adding rare world coins to their collection? Where do you begin?
Geoff: Unless you wish to start collecting coins rather than investing in them, it is not advisable to try to put together "sets." Often, a set will include less rare coins that are not of investment quality, and therefore less likely to increase in price. Additionally, a set of similar coins will tend to rise (and fall) in value at the same rate. Instead, concentrate on finding rare coins, in the finest condition, from a range of different collecting areas. All of the coins should, in time, show a good return — with a few showing exceptional returns as new areas become more popular.
Wealth Solutions in Uncertain Times
We've only just scratched the surface when it comes to using collectibles to increase and diversify your investments. Collectibles, or what we often refer to as "quiet wealth," are a way of protecting your assets not only from upheaval in the market, but also from the uncertainty we are facing with a government that has accumulated more than $19 trillion in debt and is militarizing our police force. In fact, collectibles are a wealth solution that we explore with subscribers of The Bauman Letter to add an extra layer of protection in these troubling times.
One great resource is Stanley Gibbons. It can advise the investor on compiling a diversified portfolio of rare coins from England, Europe or the rest of the world. Free storage and insurance are available if required, and annual valuations are provided. There are no management fees or annual charges — and commission is only payable when the coins are eventually sold.
Any rare coin portfolio from Stanley Gibbons is sold with an investment contract that specifies the terms of the investment and, most importantly, the exit options available to the investor. Collectibles should always be a medium- to long-term investment, but the most popular investment contract, the Flexible Trading Portfolio, has no minimum holding period. Investors are free to sell one or more coins at any time, and either take their profits or reinvest in other collectibles.
Geoff is based in London, but you can contact him on his U.S. cellphone at 1-707-466-4999 or by email at ganandappa@stanleygibbons.com.
Proper planning now will not only work to protect your assets as America struggles to find its footing again, but it will also help you sleep well at night knowing that you chose to diversify your investments outside the volatility of the market.
Regards,


Jocelynn Smith
Sr. Managing Editor, Sovereign Investor Daily