It's a bull market in Big Agriculture, also known as Big Ag. The business of growing the crops that feed the world is booming, as you can see in the chart below: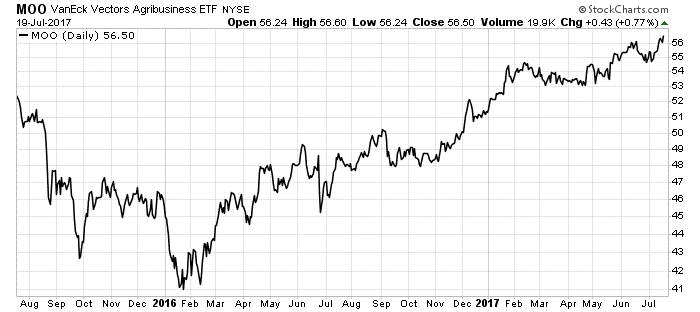 The VanEck Vectors Agribusiness ETF (NYSE: MOO) tracks the largest names in the space. The exchange-traded fund's top 10 holdings range from high-end tractors (John Deere) to designer seeds (Monsanto) to Big Fertilizer (PotashCorp). These stocks hit bottom in 2016, like most of the natural resources sector.
However, since then, it's been a steady climb higher.
As population density increases, so does the need for higher-yielding crops. That's where Big Ag comes in. It is every bit as vital as Big Pharma, but instead of curing ills, it feeds and clothes us. These companies make advances in farming techniques as well as crop improvements. The results are record volumes of yield per acre.
Companies like Monsanto, John Deere and livestock medicine producer Zoetis are all at two-year highs today. The trend is up: It's a bull market in agriculture. And there's nothing pointing to that trend ending anytime soon. Big Ag is a great place to put some money to work today.
Good investing,


Matt Badiali
Editor, Real Wealth Strategist