Stepping out of the airport after my nine-hour flight, I took a deep breath and soaked in the sun. It was like coming home.
I never expected another country to feel quite so familiar, relaxing and inviting.
I also couldn't get much farther from my rolling, green Kentucky hills than standing in Montevideo, Uruguay. But this country is really starting to feel like home, and the timing couldn't be better.
The United States is struggling to find its footing after the recent election, mounting government and consumer debt, and a Federal Reserve that's determined to raise interest rates at least two more times this year while we are still facing sluggish growth.
Has the impressive rally that we've enjoyed finally come to an end?
Will the dollar finally collapse under the weight of our ridiculous debt burden?
The answers aren't clear, and it's time that we start doing some out-of-the-box thinking when it comes to protecting our assets and our freedom. It's never been a better time to be in Uruguay.
I arrived in Uruguay a day early to get reacquainted with Punta del Este and to help prep for the Offshore Investment Summit. Ted Bauman and several friends I've made at these conferences are with me as I explore more of the area surrounding Punta del Este. Despite this being the region's low season, the amazing beaches, quaint shops and simply wonderful restaurants are quite busy ahead of the upcoming Easter holiday.
Offshore Investment in Uruguay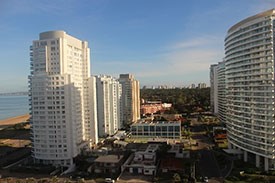 Back at the Conrad Hotel, there's a buzz in the air. I've spotted a few attendees as they checked into the hotel, as well as some of our speakers. Everyone is anxious for the summit to start, but after traveling through the night, there's a hopefulness here that we've struggled to maintain in the States.
At the Offshore Investment Summit, attendees will get the answers they need to take control of their future — whether that's diversifying their assets or developing a Plan B, in case they should choose to leave the U.S., or all of the above.
And it's time to start working on those changes now…
Are We Facing the Collapse of America?
The United States is facing some tough times and some even tougher decisions.
First, President Donald Trump has hit an unexpected stumbling block when it comes to dealing with America's health care dilemma, and it has begun to raise questions if he will be able to surmount a different set of roadblocks when it comes to pushing through his planned budget and tax cuts.
Second, the Fed lifted interest rates by 25 basis points already this year, and Fed Chair Janet Yellen has intimated that she's looking to boost rates at least twice more.
Yet the country finds itself in a quandary of slow economic growth, supposedly full employment and rising inflation.
In fact, slow growth and rising inflation spell stagflation. The Fed could soon find itself reversing course with interest rates, particularly if Trump can't ignite new business spending and growth.
Third, the government's attacks on our privacy and liberties are growing fiercer, and too few people are raising alarms. In fact, the Senate voted last week to overturn consumer protection rules, allowing Internet service providers to now sell your private Web-browsing history.
Our country is changing before our eyes, and it's time that we take steps to protect our assets, our families and our freedoms. That's why we've come to Uruguay.
A New Plan of Action
The Offshore Investment Summit kicks off this afternoon with Ted Bauman delivering the opening remarks. We will also hear from Juan Federico Fischer about what makes Uruguay the "Country of the Year," and Rob Vrijhof will be talking about Switzerland and how it is the place to be.
Over the next several days I will be covering the panels, as well as tagging along for the farmland and real estate tours, giving you a sneak peek at the information that fewer than 75 attendees will be receiving.
I will be providing readers with the great information that I gather from the speakers, as well as their contact information, should you decide that you would like more details on their services.
Be sure to check back tomorrow when I give you a glimpse of what Ted and the other presenters see for the future and what actions you can take now.
Regards,


Jocelynn Smith
Sr. Managing Editor, Sovereign Investor Daily
P.S. When it comes to offshore solutions, there's no one more experienced and qualified than Bob Bauman, a former U.S. congressman and a sought-out adviser, author and lecturer on many aspects of wealth protection, offshore citizenship and international residence. The newly revised 12th edition of his Passport Book takes the hassle out of "going offshore," and it contains the websites and contact information for the foreign embassies, consulates and officials you need to expedite your passport and citizenship documents and avoid immigration troubles. Click here to get your copy today and start learning how to reap extraordinary tax, privacy and business benefits.