I'm writing to you today from my old Kentucky home. There's an early spring chill, a bit of fog and a touch of sunlight through my office window that overlooks a few rolling green hills into the distance. I've mentioned it before, but I work out of my home here just south of Cincinnati. Meanwhile, most of my colleagues are warm and toasty near the sandy shores of South Florida.
Since the 1,000-mile trip into work would be more than untenable, I work remotely via a virtual private network (VPN) most of the time. My VPN provides a secure, direct connection to Banyan Hill's home office in Delray Beach and ensures that no one is eavesdropping on my sensitive information. Such connections have been around for about 20 years, but they have gained increasing traction with the advent of the mobile millennial workforce and global corporate offices.
And with online privacy taking a major step backward in the U.S. this week, VPNs are about to see a renaissance in personal usage as well. If you haven't read Ted Bauman's article this week, I urge you to head over and take a look for some solid privacy advice.
Whether corporate or personal, the key aspect of all VPNs is cybersecurity. And if the prior U.S. election cycle has taught us anything, it's that cybersecurity is a seriously big deal. It's also a market that is set to grow by leaps and bounds over the next several years, and could top $1 billion in sales before 2021. And there's one company, in particular, that is poised to take advantage of this growth.
Check Your Portfolio
Check Point Software Technologies Ltd. (Nasdaq: CHKP) has been a market leader in cybersecurity since 1994. The company specializes in combining software and hardware for information technology security, including network security, endpoint security, mobile security, data security and security management.
While much of Check Point's growth has been organic, the company has snapped up some rather well-known security names during the past decade, including firewall specialist ZoneAlarm, Nokia's security appliance business, and, most recently, mobile device specialist Lacoon Mobile Security in April of 2015.
In addition, Check Point is one of only a few companies to gain the Department of Defense's (DOD) seal of approval, with several products on the Unified Capabilities Approved Products List (UC APL). The UC APL qualifies certain Check Point products for sale to the DOD and other government agencies, including the Department of Homeland Security.
What's more, the DOD just added four more Check Point products — Data Firewall, Intrusion Protection System, Intrusion Detection System and Virtual Private Network Concentrator — to its approved list.
But unlike flashy upstarts such as Palo Alto Networks and FireEye, Check Point has returned solid growth during the past five years of about 10% on average. And revenue growth has sped up lately, with Check Point's bottom line advancing 17% in 2016.
And that growth should continue to advance going forward as Check Point moves away from traditional enterprise offerings and into cloud and subscription services. In fact, the company's subscription sales jumped 26% last quarter and now account for about 23% of Check Point's total revenue. Subscription services offer considerably better margins than traditional enterprise cybersecurity offerings, and with Check Point's margins already hovering just below 49%, that spells better returns for its stockholders.
Check the Price Action
CHKP stock has been on a tear for the past four years, more than doubling in value. The stock took a bit of a break between 2015 and 2016, as investors weighed acquisitions and Check Point's shift toward a subscription model. But CHKP stock resumed its uptrend in late 2016 as the subscription model began to show results. In fact, CHKP has added more than 33% since October, with the shares now trading just shy of all-time high territory.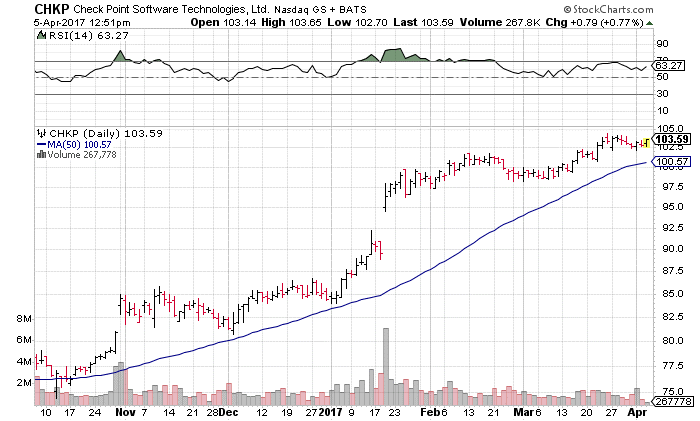 As you can see from the chart above, CHKP is on the verge of being short-term overbought. As a result, the stock could see some consolidation or even a bit of a correction over the short term, with a pullback to $100 fully within the realm of possibilities. Such a pullback, however, could be a buy signal for CHKP stock, as the shares prepare to turn higher once Check Point's next quarterly earnings report sheds more light on the company's growing subscription service.
As always, if you're nervous about diving straight into CHKP stock, you have options. For instance, you can add a bit of insurance to your new CHKP portfolio position by buying a near-the-money May $95 put, or you could follow my colleague Chad Shoop's advice from Pure Income and name your entry price for a CHKP position by selling a May $100 put in hopes of picking up the shares at a discount while they consolidate.
With more than $1 billion up for grabs in the cybersecurity market going forward, Check Point is certainly a stock to keep on your radar.
Regards,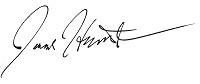 Joseph Hargett
Assistant Managing Editor, Banyan Hill Publishing
P.S. During the 2008 financial crisis, my colleague Paul won the prestigious investment competition put on by the Templeton Foundation by growing a $50 million investment to $88 million in just one year … without shorting stocks or taking on risky bets. He made these incredible gains due to having a clear understanding of a secret economic force … the same understanding that has helped Paul predict every boom and bust over the last 25 years. To see how you can use his strategy over the next couple of years to aim for similar gains, click here.