I used to hate the dog days of summer.
Stocks drift along. Trading thins to a trickle.
The grand poo-bahs of Wall Street are at their beach houses. The junior people are manning the trading desks.
Then I realized the dog days are a gift. It's a perfect time to buy stocks on sale — and prepare for a time when they're likely to be a lot more expensive down the road.
Like retailers.
Tariffs or not, the end-of-year holidays ought to be very nice indeed for the sector.
Rising Wages Is Welcome News for Retailers
Now is a good time to buy the SPDR S&P Retail ETF (NYSE: XRT) or the Invesco Dynamic Retail ETF (NYSE: PMR).
What's behind the idea of yet-larger gains? As I noted back in 2017, wages are on the rise. As I'll explain in a moment, that trend is intact and gathering steam.
That's why I recommended XRT back in May 2017 (it's up better than 14% since then), while Invesco's exchange-traded fund (ETF) is up more than 9% since I wrote about it in February. Take your pick — I believe both are poised to surpass their 2015 highs in coming months.
(Source: TradingView.com)
Why am I so confident?
People have money to spend as key trends, like baby-boom retirements and lower immigration, remove more and more workers from the workforce. Add in an expanding economy, and we have more employers chasing fewer workers to fill more jobs — a perfect recipe for higher wage growth.
The Employment Cost Index, measuring total compensation for private industry workers in all industries and occupations, says it all at a glance…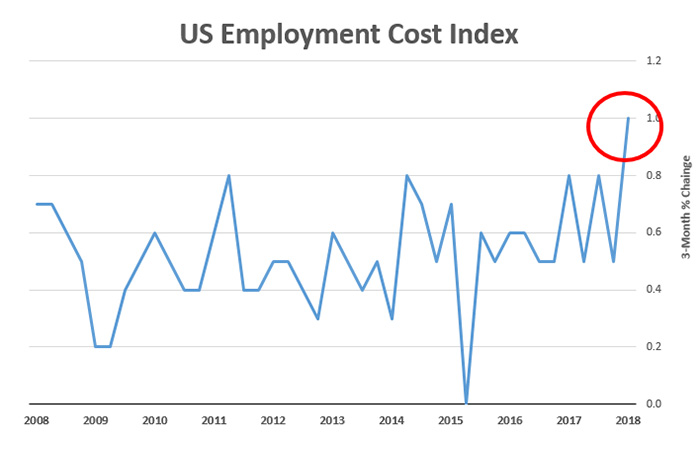 (Source: Bureau of Labor Statistics)
What about the ongoing tariff fight between the Trump administration and seemingly everyone else?
Yes, it raises costs. But it raises them for everyone. As a Wedbush Securities analyst noted the other day: "All retailers share in the price hike."
The "Death of Retail" Meme
So getting back to the point of owning a retail ETF, what about the shadow of Amazon looming over the sector?
If you note the 20% decline in the SPDR Retail ETF between 2015 to 2017, you can chalk that up to the whole "death of retail" meme.
The weakest retailers, like Sears and other marginal store and mall brands, were already on their way out. All they needed was for Amazon to give them a good shove.
And now?
As I've noted before, plenty of retailers, like Walmart, Home Depot, Kroger and others, have figured out how to do online retail, compete against Amazon and make money at the same time.
For investors, that means the end-of-year holidays are ones to look forward to.
Kind regards,
Jeff L. Yastine
Editor, Total Wealth Insider