We nailed the oil rally over the last couple of months.
Congratulations to those of you who took advantage.
Falling oil supply is the right direction for higher oil prices … just like we talked about. And that means we had a chance to jump into this trend right at the beginning.
But don't worry. You still have time to get into oil's uptrend because most investors are still afraid of this sector. And while oil supply plunged in the new year, it still has more cuts to come.
This Data Hints at Decreased Oil Production in 2019
OPEC and its cooperating countries (OPEC+) did what they said they would.
The countries cut over 800,000 barrels per day of oil production. That's compared to their October 2018 volume. They still have 400,000 barrels per day to go.
While we don't know for sure, it looks like U.S. oil production fell too.
According to the last data available, in November 2018, U.S. production grew slightly to 11.9 million barrels per day.
That's up 350,000 barrels per day. However, we don't know what's happened since then.
We can look to Texas for a hint. The Texas Railroad Commission keeps monthly preliminary data for oil production.
This isn't certified, but it's a good hint…
According to the Railroad Commission, daily production in Texas fell from 2.81 million barrels per day to 2.76 million barrels per day.
This is a clue that U.S. production could be down in 2019 too.
As you can see, the oil price responded to the cuts in production: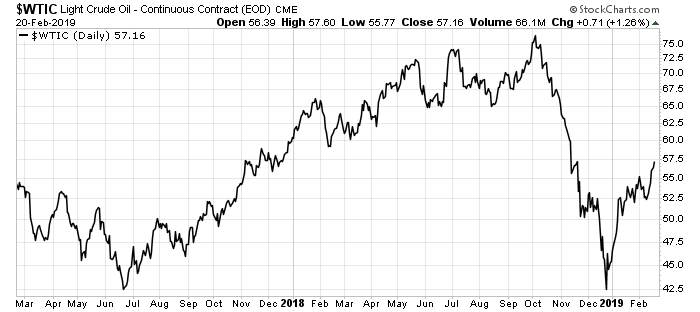 The price of oil climbed 35% since late December 2018. That's a remarkable increase in just a few weeks.
It's one that I started telling you about in late December. And we had some ways to make money.
It's Not Too Late to Buy These 2 Funds
Back on December 17, 2018, I recommended that you buy master limited partnerships (MLPs). At the time, the Alerian MLP ETF (NYSE: AMLP) sat at $9.44 per share. I told you that the exchange-traded fund's (ETF) price would fall into the end of the year and rally in 2019.
It fell below $8.20 per share before rallying back over $10 per share today, just like we discussed. Here's what I said back then:
Shares of the Alerian MLP Index are down 15% since August 2018 and are approaching their two-year lows.
As these share prices fall, the dividend yield goes up. The Alerian MLP Index pays 8.5% today.
However, the trend is down. With another hike coming later this month, shares continue to fall.
That probably won't be the case in 2019. Slowing global economic growth, low oil prices and sluggish economic indicators will reduce the Federal Reserve's need to lift interest rates. That should be good for MLPs.
Shares of AMLP are up 22% from its bottom, with lots of room to run higher.
But that wasn't the only opportunity for you to profit…
I told you on January 7 that oil service stocks were too cheap:
We could say that the market hates oil service stocks today. To find oil prices as low as today's, you must go back 15 years. The bearish behavior, however, doesn't reflect the industry at all.
It's important to remember that these companies are the plumbers of the oil industry. They drill the wells, frack them and connect them to the pipes that move oil. Without service companies there would be no oil industry.
The VanEck Vectors Oil Services ETF (NYSE: OIH) sat at $14.34 per share back then.
Today, it's at $17.89 per share and moving higher. That's a 25% gain in just six weeks!
This trend should hold steady as oil prices continue to rise.
I hope you took advantage of these trends back in January. But if not, you have time to get in now and continue to ride them higher.
Don't forget to use stops to know when to take profits…
The oil price should climb into this summer. We'll pocket solid gains as it does. We'll continue to update you on this trend here at Winning Investor Daily.
Good investing,
Matt Badiali, Editor, Real Wealth Strategist