A funny thing happened over the last year: Oil outperformed the S&P 500 Index … by over 30%.
For the last couple of years, oil was a sector left for dead.
From 2015 to 2017, over 116 oil companies filed for bankruptcy protection.
There was a glut of oil supply thanks to the U.S. shale revolution. Demand was down on slow economic growth in Europe and the U.S. And future demand was in doubt thanks to the emergence of electric cars.
In July 2017, I spoke about oil investments to some of the smartest natural resource investors in the world — the attendees of the Sprott Natural Resource Symposium in Vancouver, Canada. As I wrote back then:
The narrative is simple: Oil is expensive to extract, and there is no way these companies can make money at $50 per barrel.
The room was unanimous on that point. They didn't want to hear about oil.
Yet in the face of all those commonly held beliefs, the price of oil rallied.
Oil Is Back in the News
The S&P 500 did very well since February 2016, up over 45%. And that performance, along with anti-oil sentiment, hid a strong rally in plain sight, as you can see in the chart below: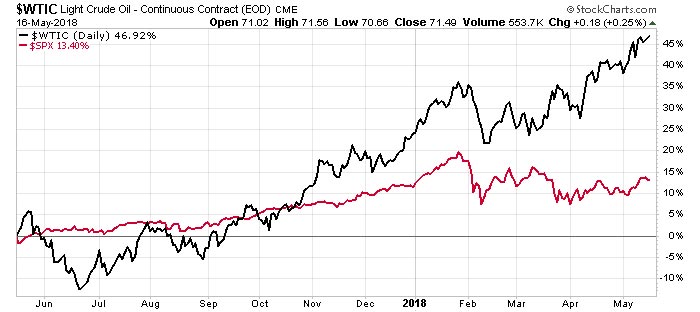 The oil price is up 47% over the past year, and up 146% since February 2016.
Today, oil is back in the news. The glut that used to exist, doesn't anymore.
According to the International Energy Agency, stockpiles of oil in developed nations are now 100 million barrels below the five-year average. Two years ago, stock piles were 400 million barrels above the five-year average.
The market tightened up dramatically.
Invest in Oil's Surge
It's funny because we saw this coming. I told everybody … and few people believed me.
In August 2017, I told you to buy the VanEck Vectors Oil Services ETF (NYSE: OIH). If you bought it then, you are sitting on 30% gains in less than a year.
But here's the thing: Oil was such an unloved sector that we still have room for this bull market to run. Use short-term declines as buying opportunities.
Good investing,
Matt Badiali
Editor, Real Wealth Strategist