Once upon a time, picking a video streaming service was easy. You had but one option: Netflix.
Now, there are more than 200-plus video streaming services to choose from. Everyone from NBC to CBS to ESPN now have their own video streaming service, and that includes niche services like National Geographic and Crunchyroll, which offer anime simulcasts straight from Japan.
All of them are vying for your subscription dollars. To support those 200-plus services, the streaming market has grown into a force to be reckoned with.
According to research firm Deloitte, Americans spend about $2.1 billion a month on subscriptions. What's more, 55% of Americans subscribe to at least one streaming service.
At 55% market penetration, there's clearly room for more growth in the industry. But that well is not bottomless.
Aside from diehard niche viewers, the rest of the industry is in for a winnowing. After all, the industry is currently more fragmented than either broadcast or pay TV services ever were.
Despite this fragmentation, there are really only five major players that are worth considering for investment potential.
Culling the Streaming Herd
Those five, in no particular order, are Netflix, Amazon, Alphabet, AT&T and Walt Disney.
For investing purposes, we can narrow this list down even further.
For instance, while Alphabet's YouTube consistently attracts a high percentage of the online viewing market, services like YouTube Red and Google Play fall near the bottom of the viewership lists for regular TV and movie watching.
Furthermore, Alphabet comes with so much additional baggage (privacy rights, social media issues, government fines for rights violations, etc.) that its stock is a far cry from a pure play on the streaming video sector.
Also, you can remove AT&T from your list of considerations. Why? AT&T still has considerable overhead from the pay TV model.
The company also continues to see declines in DirecTV Now subscriber rates.
But what about all that content AT&T just acquired in its takeover of Time Warner? It's true there is potential there, but despite a massive content catalog of more than 7,000 movies and 5,000 TV shows, AT&T has very little ability to leverage that content.
Remember, AT&T is now sitting on more than $185 billion in long-term debt — most of it related to the Time Warner acquisition.
Not only does this leave AT&T very cash-thin on what it can do to monetize its newly acquired content hoard, it also leaves the company vulnerable to rising interest rates.
Searching for Growth With the New Big 3
That leaves us with Netflix, Amazon and Walt Disney.
Now, the kneejerk reaction for many investors is to bet on Netflix. It's the granddaddy of online streaming and the current king of the online streaming market.
But Netflix has a bit of a problem — albeit one that any streaming company would love to have.
According to Deloitte, 75% of Americans that subscribe to one or more streaming services have a Netflix subscription. What's more, Nielsen reports that only 5% of American households with broadband access have no streaming service.
That means steady revenue, but it also means low growth in what's currently the biggest streaming market on the planet.
By contrast, both Amazon and Disney have considerable room for growth stateside — either alongside Netflix or by stealing market share.
That said, it's important to note that there are roughly 90 million Amazon Prime subscribers in the U.S., but Amazon Prime TV consistently ranks third or fourth in terms of viewership — behind Netflix, YouTube and Hulu.
Outside the U.S., Netflix has a clear advantage as a first-mover in the industry. The company has 78.6 million non-U.S. subscribers worldwide. And it's continuing to grow.
But there's one key market that Netflix has yet to establish a considerable presence: India.
According to research firm Media Partners, India's online video market is expected to grow to more than $2.4 billion by 2023. That's a considerable market for international growth.
However, Netflix only has about 1.4% of the Indian video streaming market.
By comparison, Amazon controls about 5% of the market, and Hotstar rules the roost with a whopping 69.4% market share.
After its acquisition of 21st Century Fox, Disney now owns Hotstar, putting it in a commanding lead in the fastest-growing video streaming market in the world.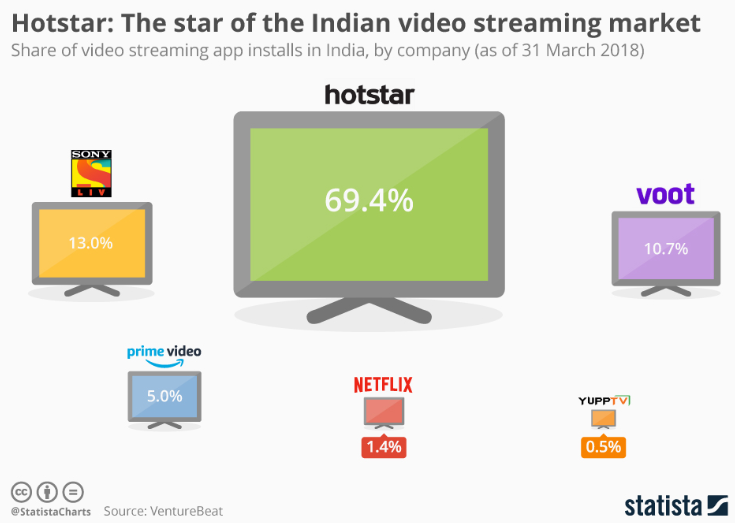 The Case for Walt Disney
Let's get this out of the way: I like Netflix, both as a service and as a long-term investment opportunity (especially at current prices).
In my household, we have Netflix, Hulu and Amazon Prime TV. We regularly use Netflix and only have the latter two because they were included with our internet service and our cellphone service.
If we had to pay for either Prime or Hulu, they would immediately be cut.
In our family, the only service that could give Netflix a run for its money would be Disney+.
According to Walt Disney, Disney+ will include movies and TV shows from Walt Disney Studios, Pixar, Marvel Studios, Lucasfilm and National Geographic. It's also rumored that Hulu could be thrown into a bundle with the service.
They had me at Marvel and Star Wars. My wife and two girls also love National Geographic, Pixar and the rest just as much.
I can imagine this conversation taking place around the country when Disney+ finally launches. Netflix is going to have a real problem on its hands.
Sure, Netflix is spending $8 billion next year on content. It has blockbuster hits like Stranger Things, Orange Is the New Black, Ozark, etc.
But Disney has a massive back catalog of content, and it's effectively leveraging its new properties like Marvel and Star Wars.
The only saving grace for Netflix is that Disney+ won't be available until mid-to-late 2019.  Netflix has some time to figure out how to deal with this new threat.
Amazon, on the other hand, needs to get serious about its streaming service if it wants to stay competitive.
Netflix Wins…For Now
Netflix is the closest thing to a "blue chip" in the video streaming market right now.
As long as its debt doesn't get ahead of its growth, Netflix will continue to flourish.
However, if you're looking for growth from a company with a massive catalog, millions of existing customers worldwide and control of the fastest-growing video streaming market on the planet, look no further than Walt Disney.
Until next time, good trading!
Regards,
Joseph Hargett
Assistant Managing Editor, Banyan Hill Publishing