Barring a miracle, 2018 will be the first year since 2015 that the TSX Venture Index ends lower than it began.
That matters because that index is the Dow Jones Industrial Index for small mining stocks.
So far in 2018, the TSX Venture fell more than 32%. You can see what that looks like in the chart below: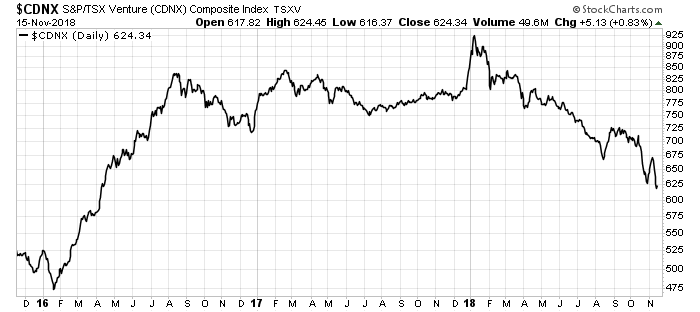 These are the companies that will find the next giant gold, copper, lithium or cobalt mine. And they are getting cheaper by the day.
Selling a Dream
As of September 30, there were 979 junior mining stocks listed on the TSX Venture. They had a combined market value of C$19.5 billion. They raised C$2.6 billion to go out and explore.
They have to raise money because they don't have any revenue. They don't sell anything but their own dream.
They issue new shares to raise cash. That's called dilution. The company must create new shares by slicing a little bit off all the existing shares.
That means investors who own these companies will own less of them than before. Their shares are worth less than before.
Dilution steals from you just as surely as getting your pocket picked on the subway.
As the companies' share prices fall, it takes more shares to raise the same amount of money.
For example, if a company's share price is $1, it takes 1 million shares to raise $1 million. But if a company's share price is $0.25, it takes 4 million shares to raise $1 million.
The Danger of a Junior Mining Bear Market
In this kind of market, the sector is divided into the "haves and have-nots."
While most of these small mining companies are getting smaller, some are getting bigger. These are companies like Great Bear Resources Ltd. (TSX-V: GBR).
This company was C$0.50 per share in August. Now it is C$2.38 per share.
That means, to raise $1 million, it used to take 2 million shares. Now it takes 420,000.
In the opposite situation is a company like Rambler Metals and Mining (TSX-V: RAB).
It was a C$0.17 stock in February. Now it trades for less than C$0.05 per share.
That means it will take more than three times as many shares to raise the same amount of money … over 20 million shares to raise $1 million. That's the kind of trouble that can sink a small mining company.
You see, eventually the number of shares becomes too large. It's hard to attract any new money without complete restructuring. Those companies usually fail under the weight of their share volume.
This is the danger of a junior mining bear market for investors. You simply cannot hold these companies and hope for the best.
Good investing,
Matt Badiali
Editor, Real Wealth Strategist